6/4/2005
San Francisco Looks at Congestion Tax
London's mayor comes to San Francisco to sell the congestion charging concept to the city.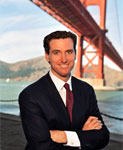 San Francisco officials heard yesterday from London Mayor Ken Livingston about how the city could profit from the congestion charging system that he established in the English capital in 2003. Under his system, motorists will pay $14.50 to enter the city after a tax hike goes into effect July 1. Livingstone was in town for the World Environment Day conference.

San Francisco Mayor Gavin Newsom is exploring the plan with a $1.3 million federally funded study that would look at issues such as how to spend the money such a system would generate. London's system directs money from drivers to projects that benefit other residents. The city's bus system, for instance, is currently receiving a $220 million upgrade so that central planners can track their location.

In the only public vote on the congestion charge issue, Edinburgh, Scotland residents rejected the concept by a 3-to-1 margin, forcing many UK cities to drop plans to impose the charge.