5/9/2005
UK Motorists Receive Speed Camera Tickets for Future Offenses
A London, UK speed camera issues tickets before the date of the alleged offense.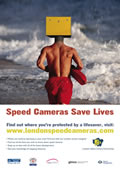 A London speed camera issued a ticket to at least one motorist three days before the date of the alleged offense. Tony White received a letter dated April 12 which stated there was photographic evidence of his motorcycle traveling at 40 MPH in a 30 MPH zone at 8:27 a.m. on April 15. He received the letter on the 13th, and says he has not been speeding on the road in question nor has he seen a speed camera there. White has an exemplary driving record -- receiving only one speeding ticket in 28 years.

Speed camera citations in the UK generally do not include a photograph of the incident, which places an additional burden on motorists who wish to prove their own innocence. A spokesman for Scotland Yard told People UK, "This is an isolated occurrence and we are satisfied that we have resolved this matter."
Article Excerpt:
Angry biker Tony White... said: "This sounds like a new strategy of policing by telepathy. It certainly gives new meaning to the phrase Thought Police."
Source: Bungling police fine motorists 3 days BEFORE they 'speed' (People (UK), 5/9/2005)

Regional News:
Other news about England



Permanent Link for this item
Return to Front Page