2/22/2005
Contesting DC Parking Tickets
Thirty-six percent of motorists who contest their parking ticket in Washington, D.C. are successful.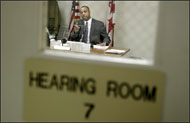 One-third of motorists who contest their parking ticket in Washington, D.C. are successful. The District maintains that "public demand" is responsible for the tripling of the number of meter maids in the city and doubling of ticket revenue since 1999. The city now earns $100 million a year from 1.3 million tickets issued.

Those who choose to contest their ticket are heard by one of 18 DMV examiners whose qualification is they "have a law degree." Their job is not to show any mercy. A cab driver who got out to help an elderly lady to the door still had to pay $50 for doing the right thing. An unemployed man who maintained that he was not parked in the same residential spot for 2 hours was ignored.

The majority of successfully contested cases come form handwritten police-issued tickets. With them, "you always get more problems," DMV Director Anne Witt told the Washington Post. "If something is unreadable or if there's any kind of error, you've won your case."
Article Excerpt:
In the District, contesting tickets in person can require a morning or afternoon for the trip to the DMV's 65 K Street NE headquarters, where motorists slump in bucket seats in a windowless waiting room while a television intermittently repeats a public service announcement promoting photo-enforcement cameras.

It's a place where people fight off drowsiness, roll their eyes and occasionally lash out in ways that leave the examiners wishing they had alarms to alert security, instead of switches behind their desks that turn on a light outside the door.
Source: That's Not the Ticket, Parkers Argue (Washington Post, 2/22/2005)

Regional News:
Other news about Washington, District of Columbia



Permanent Link for this item
Return to Front Page