1/9/2023
Speed Cameras Trashed Over The Holidays In DC, Europe
Vigilantes in Washington, DC, France, Germany and Italy celebrated Christmas and the New Year by spraypainting and smashing speed cameras.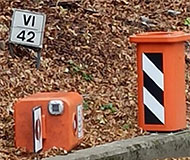 By Richard Diamond/Staff Reports

Over the past two weeks, photo radar devices in the US and Europe were taken out of service by unidentified individuals opposed to their use. In Washington, DC, vigilantes took a can of black spraypaint and blinded the speed camera on Arizona Avenue Northwest on January 3.

In Grostenquin, France, the speed camera on the RD674 was decapitated on Sunday, January 8, just two weeks after its installation. Unidentified opponents of automated ticketing used a power saw on the middle of the tall pole on which the "turret" camera was mounted. Once that had been weakened, they pushed the device into a ditch. On Friday, January 6, the speed camera on the A13 in Mantes-la-Ville went up in flames a few days after it had been installed. In Auzits, white and blue spraypaint prevented the speed camera on the RD840 from issuing citations. Red was the color used to thwart the automated ticketing machine on the RD8043 in Auvillers-les-Forges. In Cambron, blinded the speed camera on RD925 with red spraypaint on New Year's Day.

In Saudi Arabia, an employee of Comprehensive Technical and Security Control, the for-profit company that operates the "Saher" speed camera program, was indicted by the Saudi Control and Anti-Corruption Authority on December 27. The government agency accused the employee of taking bribes.

Vigilantes in Castrop-Rauxel, Germany, used orange spraypaint to disable the speed camera on Recklinghauser Strasse on Wednesday, January 6. On New Year's Eve, others smashed the lenses of the the speed camera on Eltviller Strasse in Taunusstein. That same evening, vigilantes rang in the new year in Twistetal by blinding a number of speed cameras with red spraypaint, according to local police reports. On Christmas Eve, the speed camera on the B56 in Much was destroyed after it failed to prevent an accident. A 35-year-old BMW driver slammed into the device, knocking it over. An unknown individual grabbed off the ground on the day after Christmas. In Markdorf, the speed camera on Ravensburger Strasse was shot by an unidentified gunman on December 29.

In Lecco, Italy, vigilantes cut down the speed camera that had been recently installed on the SP583 near Oliveto Lario on December 30. Another speed camera was similarly decapitated in Vigonovo on Christmas Eve.