2/14/2022
Washington, France, Germany, Italy: Speed Cameras Foiled
Strikes, spraypaint and fire prevented a handful of speed cameras from issuing tickets last week in Seattle, Washington, France, Germany and Italy.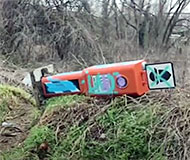 By Richard Diamond/Staff Reports

Concrete workers in Seattle, Washington, have foiled attempts to install speed cameras on 24th Avenue East by going on strike, citing complaints over wages and working conditions.

Vigilantes in Lamballe-Armor, France, on Wednesday disabled the speed camera on the RD791 by painting its lenses black. In Lolif, vigilantes cut down and burned the turret speed camera on the RD973 on Friday, February 4.

In San Donato Milanese, Italy, on Thursday, vigilantes knocked over the "Velo OK" brand speed camera on the Via Marignano and covered it with pastel green, purple and blue spraypaint. Another camera on the Via De Gasperi was likewise uprooted and spraypainted with a light blue shade of paint. In Lubeck, Germany, vigilantes glued cardboard to the speed camera on the B75 on Sunday, February 6, blinding the device.