10/4/2021
Australia, France, UK: Speed Cameras Blinded
License plate camera involved in accident in England last week. Australian and French vigilantes spraypainted cameras.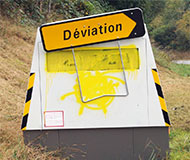 By Richard Diamond/Staff Reports

A license plate camera (ALPR, also known as ANPR) on Weyhill Road in in Andover, England, was involved in an accident on September 27. According to Basingstoke firefighters, there were no injuries.

On Tuesday, vigilantes in La Cluse-et-Mijoux, France, decorated the speed camera on the D678 with red, orange and green spraypaint and adding more than a dozen smiley faces and the label "Macron" -- referring to the French president. A thick layer of paint was also applied over the lens to prevent the device from issuing automated citations. In Tinchebray-Bocage, just days after the frequently attacked speed camera on the RD924 had been repaired from a previous incident, vigilantes covered it in yellow paint on September 25, adding a road sign saying "Deviation."

In Victoria, Australia, a vigilante disabled the traffic camera on the corner of Victoria Street and Doncaster Road in Doncaster on September 24. Officials will have a hard time finding the man responsible because he was wearing nondescript clothing while riding a bicycle with the government-required white helmet and mask covering any identifiable features.