9/20/2021
Illinois, Italy, France, Germany: Speed Cameras Slammed, Swiped
Vigilantes around the world last week took out a handful of speed cameras.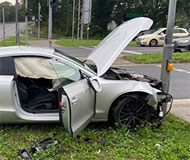 By Richard Diamond/Staff Reports
A vigilante swiped the red light camera from the intersection of North Cicero Avenue and West Lawrence Avenue in Chicago, Illinois, on September 5. The same device has been grabbed at least two other times, most recently in June.

In Mettmann, Germany, on Wednesday, the speed camera on the Berghausener Strasse failed to prevent an accident. A silver Audi A5 driven by a 21-year-old veered onto the side of the road where the pole of a speed camera caused serious damage to the car. The automated ticketing machine was not damaged. In Tolmezzo, Italy, vigilantes knocked over the "Velo OK" speed camera on the SS52 on September 13.

On Saturday, the speed camera on the RD1083 in Saint-Paul-de-Varax, France, was blinded with black and green spraypaint. On the same day in the South American French department of French Guiana, vigilantes used burning tires to destroy the speed camera on the RN1 in Macouria.