8/30/2021
France, Germany: Speed Camera Attacks Heat Up
Vigilantes continued to remove multiple speed cameras from operation in France and Germany last week.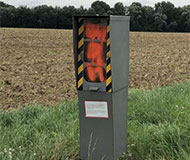 By Richard Diamond/Staff Reports

Attacks on speed cameras are on the rise in Baden-Wurttemberg, Germany. Authorities told the broadcaster Sudwestrundfunk that the number of incidents of the devices being bombed, shot and spraypainted is on the rise.

"From 2016 to 2019 we only ever had two cases," a police spokesman told SWR. "By 2020 we had ten cases."

The most recent attack in Heilbronn on August 20 saw the speed camera blown up.

Vigilantes in Peronne, France, on Sunday blinded the speed camera on the RD1017 with orange spraypaint. On Friday, vigilantes completely destroyed the speed camera on the RD93 in Montlaur-en-Diois by setting it on fire. On Wednesday, spraypaint was used to take out the speed camera on the RD974 in Morey-Saint-Denis. In Lagnieu, the speed camera on the RD1075 was torched on August 23 -- the second attack in the area in the space of two weeks.