10/5/2020
Canada, France: Speed Cameras Tarred and Torched
Several automated ticketing machines in France and Canada were torched, toppled, tarred and tagged last week.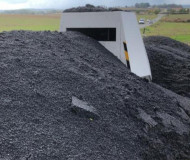 Vigilantes in Hamilton, Canada, used black spraypaint to blind the speed camera on Stone Church Road on Wednesday -- just one day before the device was set to become the city's first operational speed camera.

On Saturday, vigilantes in Chemin covered the lens of a newly installed speed camera with silver spraypaint and a happy face. On Friday, the pole-mounted "turret" speed camera in Sonnay was cut down with an angle grinder. On Thursday, the speed camera on the RD7 in Amigny-Rouy was disabled by a novel technique: a truck was used to dump a large pile of tar both in front of and in back of the automated ticketing machine. The tar has now hardened. On Tuesday, the speed camera on the RD347 near Neuville-de-Poitou was set on fire with a pair of tires and gasoline.