7/30/2019
Ohio: Federal Lawsuit Takes On Unauthorized Speed Cameras
Federal lawsuit seeks refunds from New Richmond after it set up speed cameras in defiance of Ohio Department of Transportation.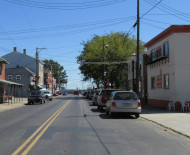 A new lawsuit is challenging an Ohio speed trap town's use of photo radar devices set up on state roads without the permission of the Ohio Department of Transportation (ODOT). Attorney Marc E. Dann last week filed a federal class action against New Richmond after the village hired a Swedish company to set up a pair of automated ticketing machines on US Highway 52. Dann argues that the company, Sensys Gatso, began issuing tickets at that location on June 1, 2019, in defiance of direct orders from the state.

"As you may know, under Ohio Revised Code Section 5515.01, the director of Transportation has sole discretion to permit use of ODOT rights of way and ODOT owned structures," the agency wrote in a July 20, 2018, letter to the village. "The director has determined to exercise that discretion to not permit placement of speed enforcement cameras or related signage in ODOT right of way or on ODOT owned structures."

On September 11, 2018, ODOT followed up by ordering the village to remove any speed camera equipment from its right of way. The suit alleges that New Richmond violated state law by setting up those cameras anyway, and that the tickets issued by the unlawful cameras violated the due process rights of motorists passing through New Richmond.

"The village is not entitled to sovereign immunity as suits seeking the return of funds wrongfully collected or held by governmental actors," Dann wrote in his suit. "The village engaged in a civil conspiracy to cause injury to plaintiffs... by engaging in a common scheme to generate revenue through the systematic issuance of the unlawful citations."

ODOT made clear in its correspondence that portable speed cameras used entirely within village rights of way would be permitted. The agency did not want any permanent speed cameras installed on its property. The village went ahead and allowed Sensys Gatso to issue tickets anyway.

The lawsuit seeks refunds for anyone who paid a ticket from the illegally installed cameras, along with legal fees and punitive damages. A $3.5 million judgment in a class action suit against New Miami was finalized earlier this month after six years of litigation. Parts of that suit have already been upheld by the Ohio Court of Appeals and the Ohio Supreme Court.