1/31/2019
Conservative Groups Push For Tolling Every Road
A letter sent by right-leaning public policy groups wants to replace the gas tax with nationwide tolling on every road.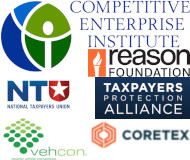 Several key conservative public policy groups and corporate interests called on Congress last week to charge tolls for driving on every road in the country. The Competitive Enterprise Institute (CEI) was joined in a letter to lawmakers by 17 other groups, including the National Taxpayers Union, Reason Foundation and Taxpayers Protection Alliance. Vehicle tracking companies like Coretex and Vehcon also signed on.

Earlier this month, Democrats took over the US House of Representatives, dramatically shifting Washington's policy priorities. The groups hope that the new committee leadership in the lower chamber will be open to eliminating roads that are free for all to use through financing provided by the gas tax, registration fees and other taxes.

"We are encouraged by the leadership of House Transportation and Infrastructure Committee Chairman [Peter] DeFazio and Ranking Member [Sam] Graves, who have both supported examining a road usage charge system as the eventual replacement for a fuel tax regime that is projected to become increasingly inefficacious and regressive as vehicle fleet fuel economy improves and eventually electrifies," the letter explained. "We strongly support their near-term efforts to create a nationwide mileage-based user fee pilot program."

In the past decade, the average fuel economy of America's passenger vehicle fleet has increased three percent, from 21.2 miles per gallon to 22. The best-selling vehicle in the country remains the Ford F-150 pickup truck with nearly double the sales of its nearest competitor, the Chevrolet Silverado. Electric cars are also a niche product. Out of the 17.6 million vehicles sold in the United States in 2017, 195,245 -- or 1.1 percent -- were powered by electricity. Nonetheless, the groups want to replace the gas tax with a per-mile tax on driving that would begin with a test program as early as 2020.

CEI endorsed model legislation last year that would examine three possibilities for collection: installing tracking devices on everyone's automobiles, smart phone apps or regular odometer readings to come up with the amount of the tax. Each of the options is significantly more expensive than the current system in which the motor fuel excise tax is collected from a handful of distributors with an average cost of collection below one percent. The most efficient per-mile tax option, the use of odometer readings, would require collecting regular payment from millions of motorists. Groups like CEI have been pushing for more complex solutions based on GPS monitoring technologies to vary tolls by the place and location driven.

"Adopting direct usage-based road pricing, which would include congestion charges and deliver congestion benefits, could offer low-income drivers more opportunities," CEI senior fellow Marc Scribner explained in July.

Liberal groups are also on board for a radical change in the way roads are financed. The Green New Deal proposed by Representative Alexandra Ocasio-Cortez (D-NY) seeks to "just stop" the use of fossil fuels, which will require the use of "innovative public and other financing structures" to achieve "social, economic, racial, regional and gender-based justice and equality and cooperative and public ownership." A GPS-tracking road user charge would maximize flexibility for lawmakers to reward and punish motorists based on where and when they drive.