12/6/2018
Pennsylvania Governor Unwittingly Supports Toll Road Lawsuit
Pennsylvania Governor Tom Wolf inadvertently bolsters a lawsuit alleging the Pennsylvania Turnpike rips off motorists and truckers.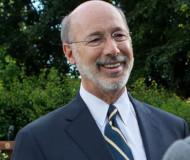 Pennsylvania governor Tom Wolf (D) unwittingly undermined his own position in a lawsuit while speaking to a radio host last week. Independent groups representing the interests of truckers and motorists earlier this year filed a class action lawsuit against the governor and the Pennsylvania Turnpike Commission over the excessive tolls being charged as a way to prop up the state budget. The Owner-Operator Independent Drivers Association (OOIDA) and the National Motorists Association (NMA) pounced on the transcript of the interview with KDKA radio in which Wolf appeared to concede several critical points.

"People using the turnpike are paying too much," Wolf said. "The turnpike really is driving business away... It's just too expensive for the turnpike and turnpike customers. So you're right, we have to do something about that."

In the interview, Wolf criticized Act 44 and suggested there was bipartisan support to end this law which mandates the transfer of cash from the toll road to the state Department of Transportation (PennDOT).

"The turnpike tolls were supposed to be temporary," Wolf said. "The idea was they would go away, and it never did, obviously... It turned out to be burdensome for the turnpike and for the people who use the turnpike."

The motoring groups were trying to establish just those points in the lawsuit -- that the turnpike tolls are excessive, they burden interstate commerce and the funds are used for purposes unrelated to the turnpike.

"Governor Wolf's statements in a recorded interview concerning the turnpike and Act 44 are admissible evidence that support the allegations in plaintiffs' complaint, and undoubtedly overcome Governor Wolf's and [PennDOT] Secretary [Leslie S.] Richards' hearsay objections to one portion of the statement," the groups' lawyer, Kevin J. McKeon, wrote to US District Judge Yvette Kane. "Plaintiffs respectfully bring the governor's admissions to the attention of the court."

Prior to the interview, lawyers for the state government had asked the court to exclude evidence suggesting the tolls being charged were excessive.

"It isn't often that an opposing party in what could turn out to be significant class action suit provides such a boost to its adversary's position," NMA president Gary Biller told TheNewspaper. "Governor Wolf seems to now realize that the Act 44 approach doesn't make sense regardless of the outcome of the OOIDA/NMA lawsuit against the commonwealth.."

The Pennsylvania Turnpike is notorious for corruption, as pay-to-play scandals and an unsustainable business model are reflected in the rates charged to the public. A trip across the state costs $47.55 for a car and can cost up to $1836 for a commercial truck. According to the turnpike budget, the tolls are more than double what they need to be to pay for the road's operational costs, and they are set to continue rising every year.