9/28/2018
Oregon Ballot Measure Could Fight Toll Roads
Effort to require voter approval of any new toll roads proceeds to signature gathering stage in Oregon.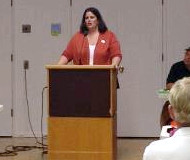 An effort to require voter approval for toll roads in Oregon has passed its first hurdle. The state attorney general is accepting public comment through Monday on a proposed constitutional amendment meant to thwart the current push to raise billions from motorists by charging for the use of roads that have already been built. Once the attorney general signs off, supporters can begin the statewide effort to gather the 117,578 signatures needed to qualify for the November 3, 2020 ballot.

State officials, operating under a mandate from the legislature, have been moving fast on plans to impose tolls. The Oregon Transportation Commission last month directed the state Department of Transportation to send a formal application to the Federal Highway Administration to toll every lane of Interstates 5 and 205 through Portland. The federal tolling application is due December 31, but it represents just the first step. Officials ultimately want to see drivers taxed every time they use any road in the Portland area, including Interstate 84, Interstate 405, US 26 and Oregon 217.

"Tolling could be used to both manage congestion and generate revenue," the agency explained.

Local activist Les Poole joined with state Representatives Mike Nearman (R-Independence) and Julie Parrish (R-West Linn) in crafting Initiative Petition 10 to prohibit tolling any road that was free to use on January 1, 2018, without the endorsement of a majority of statewide voters and a majority of voters in each county through which the road passes. Voter approval would not be needed to charge tolls on newly constructed lanes that add capacity to existing routes. This would prevent high occupancy vehicle lanes from being converted into high occupancy toll lanes, an option that has become popular among transportation lobbyists across the nation.

Oregon motorists are not used to paying tolls. Currently, the state only charges for use of the Hood River-White Salmon Interstate Bridge and the Bridge of the Gods, both of which span the Columbia River between Oregon and Washington state. US senators in Washington are worried that Oregon seeks to use "border tolls" that would interfere with commerce between the states.

"I ask you to ensure this work continues to be done in an open and transparent manner so that voices on both sides of the Oregon-Washington border are heard and considered," Senator Patty Murray (D) wrote in a letter to the Oregon governor. "This should include a continued commitment to robust public comment to make sure a full perspective on the impacts to everyday commuters, businesses, the economy and the environment in Washington state is considered by the state of Oregon."