8/11/2017
Civil Rights Groups Press Virginia Supremes On Plate Readers
Virginia Supreme Court takes written arguments from civil rights groups against the use of license plate cameras.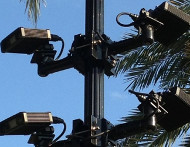 Civil rights groups made their case to the Virginia Supreme Court, urging the justices last week to find that the police use of automated license plate readers (ALPR, also known as ANPR) violates state privacy laws. The American Civil Liberties Union (ACLU), Electronic Freedom Foundation (EFF) and Rutherford Institute each filed petitions in their case against the Fairfax County Police Department that claimed the use of cameras to gather intelligence on motorists not suspected of any crime violated Virginia's Government Data Collection and Dissemination Practices Act.

Last year, a Fairfax County judge rejected the argument (view ruling), even though a 2013 state attorney general opinion agreed with the ACLU and EFF (view opinion). The groups insist that the law seeks to protect private information about drivers, and that the lower court judge was construing the term 'personal information' too narrowly.

"ALPR data clearly fits within the types of personal data of concern to the General Assembly because it allows the government to monitor patterns of movements associated with identified vehicles, and to easily link that data to 'personal activities' of specific Virginia residents using data readily available through intercommunicating databases," EFF attorney Matthew J. Erausquin wrote. "In the past few years, as it has become clear how easy it is to aggregate seemingly innocuous and isolated pieces of data from disparate sources to create a full and revealing picture of an individual, agencies and organizations that work on privacy issues have broadened their definition of personally identifying information."

The group cited the Federal Trade Commission's updated definition of personally identifiable information to include cases where the information can be "reasonably linked" to a particular person using various identifiers. For its part, the ACLU blasted the lower-court judge for dismissing the attorney general's opinion in a footnote.

"Nothing in the [judge's] letter opinion... explain or support a conclusion that the instant case 'differs from the situation reviewed by the attorney general,'" ACLU attorney Edward S. Rosenthal wrote. "Since no trial was held and no admissions of fact were made by [our client] to support such a conclusion, it is difficult to ascertain what the trial court based this remark upon."

Virginia law requires courts to give "due consideration" to the points made in a formal ruling of the attorney general.

"We're on the losing end of a technological revolution that has already taken hostage our computers, our phones, our finances, our entertainment, our shopping, our appliances, and now, it's focused its sights on our cars," Rutherford Institute president John W. Whitehead said in a statement. "By subjecting Americans to surveillance without their knowledge or compliance and then storing the data for later use, the government has erected the ultimate suspect society. In such an environment, there is no such thing as innocent until proven guilty."