11/21/2016
France, Italy, Russia: Speed Cameras Bashed, Painted
Vigilantes throughout the world were disabled with spraypaint and sledgehammers last week.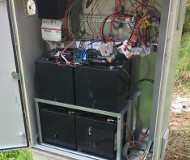 In Montichiari, Italy, a vigilante took a sledgehammer to a speed camera last week Monday, Giornale di Brescia reported. The automated ticketing machine on the Strada Statale 236 Goitese is one of the area's most lucrative cameras, generating 23,252 tickets last month. On Saturday, vigilantes in Nepi disabled a pair of speed cameras. According to Viterbo News, unknown individuals knocked over the bright orange housings for the newly installed devices on Strada Nepesina.

In Saint-Hostien, France, vigilantes covered the lens of the speed camera on the RN88 with bright red spraypaint and an anarchy symbol, La Commere 43 reported. The same device had been painted earlier this month. According to La Depeche du Midi, the speed camera in Aubiac was also painted last week Sunday.

In Cherkessk, Russia, a 27-year-old man was accused of bashing a speed camera with a baseball bat. According to Stavropol, the camera on the Kavkaz highway flashed him. He will be charged with destruction of property.