12/26/2014
Redflex Employment Bias Trial Proceeds
Federal court in Ohio continues consideration of an employment discrimination lawsuit against the former US head of Redflex.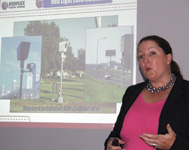 Photo enforcement vendor Redflex Traffic Systems faces more legal trouble than just the ongoing federal bribery trial in Chicago, Illinois. The US District Court for the Southern District of Ohio continues its evaluation of the claims of former photo ticketing salesman Catherine Petzel who alleges that the top management at the US division of the company discriminated against women and against Australians. Earlier this month, Redflex asked Judge Peter C. Economus to throw out the case.

Petzel insists that Redflex manager Mark Etzbach told her that she was fired because she was a woman, and the company kept Darren Kolack because he is a man.

"Petzel and Kolack were both salespeople; both ultimately reported to Aaron Rosenberg; both were nominally held to the same sales standards; both were put on identical performance improvement plans at the same time, requiring them to execute two sales by the end of calendar year 2011 or face termination; and both failed to make any sales during the quarter that they were on their performance improvement plans," Petzel's lawyer, John C. Camillus, wrote. "Catherine Petzel was terminated. Darren Kolack was not."

Petzel was supposed to sell red light cameras and speed cameras in Ohio, a state where voters in eleven cities have defied their city councils and outlawed automated ticketing with a ballot initiative. Petzel maintains selling automated ticketing machines in the state was impossible, but all salesmen were required to convince at least one city per quarter to sign up for photo ticketing. After Petzel was told she had to come up with a contract or be terminated, she signed up Montgomery, Texas.

"Ms. Petzel also had concerns during her time at Redflex that she was being singled out or monitored more closely than others due to her Australian national origin," Camillus wrote. "She attended a Redflex sales conference in Culver City, California, in 2011, in which Ms. Finley made disparaging comments about 'the Australians.' Ms. Finley referred to the work ethic of Australians, implying that Australians did not work as hard as their counterparts in the United States. Ms. Petzel felt very embarrassed by Ms. Finley's comments."

Redflex rejected the insinuations and demanded the court immediately toss out the suit.

"Simply put, plaintiff did not meet the terms of her [performance improvement plan] and there were no mitigating factors supporting the retention of her employment as there were with Kolack," company lawyer Vincent J. Tersigni wrote. "Accordingly, Plaintiff has failed to demonstrate that Redflex 'changed' its rationale for terminating her employment and Redflex is entitled to summary judgment as a matter of law... Plaintiff has produced no evidence that her gender or national origin was the real reason for her discharge."