4/13/2014
Australia, France, Italy Speed Cameras Smashed And Burned
Around the world, vigilantes disable speed cameras.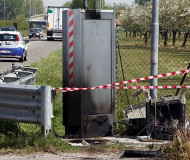 Vigilantes in Bordeaux-Cap-Ferret, France destroyed a speed camera yesterday morning. Sud Ouest reports that tires placed on the D106 automated ticketing machine were set on fire, rendering it incapable of issuing tickets.

The same fate befell a speed camea in Modena, Italy some time after midnight on Thursday. According to Gazzetta di Modena, the camera on the Via Nuova Estense in the community of Santa Maria di Mugnano was burned and then smashed by something heavy. In Cherasca, a speed camera was installed, then covered by a cardboard box, then completely removed last week, according to Grandain.

In South Australia, a twenty-two-year-old vigilante took out twenty-one speed cameras, costing the government $250,000 in profit over the past eight months, The Advertiser reported. The man blasted cameras in Adelaide with a crossbow and marbles that smashed the camera lenses. The man faces charges.