10/16/2013
DC Cabbies Sue City Over GPS Spying
Taxi drivers sue Washington, DC over GPS tracking of cabs and their passengers.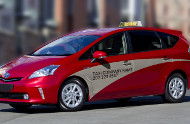 Taxi drivers in Washington, DC last week filed a lawsuit against the city over its decision to force the installation of GPS spying devices in all cabs. Through a series of proceedings that began in July 2012, the DC Taxicab Commission set rules for a "smart" taxi meter system. These new devices would record the identity of the driver, the time and mileage of each trip along with GPS coordinates, the amount of a fare charged and real-time location of the cab. Passengers would be identified automatically when paying by credit card. The data would be accessible to dispatchers and DC police.

Required display screens would have to show messages from the taxicab commission, public service announcements and "movie clips." All of the new hardware would be installed and maintained at the expense of the cab owner. Other hardware on the cab would also have to be replaced with equipment that the drivers say make their job more difficult.

"In order to activate the new dome light on call or off call indicator, the taxicab driver must physically exit the vehicle to activate the system from a device located on the dome light on the roof of the vehicle," Billy L. Ponds, lawyer for the cabbies, wrote in a brief to the court. "This impediment did not exist under the prior dome light system."

The suit charges the dome light requirement violates the Americans with Disabilities Act, and the GPS tracking system violates the Fourth Amendment.

"The Modern Taximeters Systems smart chip tracks all trips from arrival to the final destination," Ponds wrote. "The MTS smart chip reveals the identity of the passenger who traveled in the taxicab and paid for the fare by a credit or debit card as well as the time and location where the travel was initiated and the disembarkation point. All the information after a credit card transaction is processed is downloaded in real time to the District of Columbia Taxicab Commission."

The commission charges a 25 cent tax on each transaction. If the driver has a dispute with the commission, the system gives the commission the ability to remotely shut down the cab's meter, ending the cab's operations. The commission can also directly debit money from the driver's account. As all of the 2000 cab drivers are either born in a foreign country or are black, the suit alleges discrimination.

"There are neither any privately nor publicly traded businesses in the District of Columbia that are subjected to this automatic deduction and immediate withdrawal of payment to a District of Columbia agency for any surcharge, sales or any other tax after each financial transaction is conducted with a customer," Ponds wrote. "Only taxicab drivers are subjected to these draconian measures."

The cabbies are asking for a jury trial to settle the matter.