2/4/2013
Post Office Refuses To Pay Traffic Camera Tickets
Postal Service claims immunity from red light and speed camera tickets from East Cleveland, Ohio.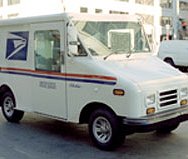 The mailman who delivers traffic camera tickets does not have to pay them, according to the US Postal Service (USPS). Postal officials refuse to pay the citations it received in the mail from American Traffic Solutions (ATS), a for-profit company based in Arizona. As first reported by Yahoo News, ATS on Thursday sent a nasty letter demanding payment for two photo radar tickets and four red light camera citations generated by automated ticketing machines in East Cleveland, Ohio.

"We suggest that you transfer the liability for the infractions to the USPS drivers who incurred them, and instruct them that pursuant to Ohio law, as well as the USPS guidelines, the infractions are their responsibility," wrote ATS General Counsel George J. Hittner. "If you choose to ignore the infractions, penalties and fines will continue to accumulate."

USPS Senior Litigation Counsel Jennifer S. Breslin was defiant in a January 22 letter to ATS, citing the establishment of post offices in the Constitution and the principle that the independent government agency works within local laws and regulations "when feasible."

"The Postal Service requires its employees to obey all traffic laws and rules while operating Postal Service vehicles and while operating a self-owned vehicle while conducting Postal Service business activities," Breslin wrote. "However, the state and/or local ordinances imposing penalties and fines cannot be enforced as against the Postal Service, and there is no statutory basis for doing so."

Federal law does offer some specific protection to the Post Office. Suits against USPS cannot be heard in state or municipal courts, as federal law gives federal district courts original jurisdiction in all matters involving USPS. The Post Office also enjoys immunity from unfair competition laws meant to prevent business monopolies.

"No damages, interest on damages, costs or attorney's fees may be recovered, and no criminal liability may be imposed, under the antitrust laws (as so defined) from any officer or employee of the Postal Service," 39 U.S. Code Section 409 states.

The statute also exempts the post office from zoning ordinances, though it sets up procedures to encourage compliance. In a 1988 case, the US Supreme Court determined the Post Office no longer enjoys sovereign immunity and can be sued like any other business.

"When Congress created the Postal Service in 1970, it empowered the Service to sue and be sued in its official name," Justice Anthony Kennedy wrote. "This sue-and-be-sued clause was a part of Congress' general design that the Postal Service be run more like a business than had its predecessor, the Post Office Department... After noting that Congress has launched [the Postal Service] into the commercial world, the court held that the sue-and-be-sued clause must be liberally construed and that the Postal Service's liability must be presumed to be the same as that of any other business."

Hittner cited a number of high profile examples of USPS drivers arrested for reckless driving, drunk driving and driving without clothes on as evidence that postal employees do not have immunity from traffic laws. Speed camera van drivers have also been indicted for similar offenses. Photo enforcement executives have also ignored their own speed camera tickets.