2/22/2011
Florida Toll Road Sued for Holding Motorists Hostage
Federal class action lawsuit against Florida toll roads for unlawfully detaining motorists who pay cash.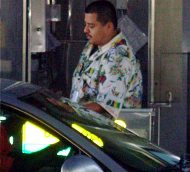 A group of motorists earlier this month filed a federal class action lawsuit against Florida's toll road system for detaining motorists who attempt to pay the tolls with cash. About 600 miles worth of toll roads and bridges are under the jurisdiction of The Florida Department of Transportation (FDOT), which hands operational duties over to the private firm Faneuil, Inc., which is responsible for the toll collectors. The complaint charges both firms with false imprisonment and other civil rights violations.

"For approximately four years, FDOT and Faneuil have engaged in a practice of detaining motorists and their passengers on the Turnpike System until such motorists provided certain personal information in exchange for their release," attorney James C. Valenti wrote on behalf of the plaintiffs. "The motorists and passengers have been detained without their consent and without legal justification."

Under FDOT policies, motorists who pay with $50 bills, and sometimes even $5 bills, are not given permission to proceed until the toll collector fills out a "Bill Detection Report" with data about the motorist's vehicle and details from his driver's license. Those unwilling to provide personal information to the toll collector are offered no alternative because the toll collector will not open the barrier, preventing the car from moving forward. FDOT policy does not allow passengers to exit their vehicle, and backing up is illegal and usually impossible while other cars wait behind. Some of those paying in cash object to the idea of carrying the SunPass toll transponder on privacy grounds, but the use of cash is discouraged because it increases operating costs.

"The policy of detaining motorists without their consent and without legal justification extended throughout the Turnpike System and was so permanent and well settled that it constituted custom, practice or policy which has the force of law and rises to the level of deliberate indifference to plaintiff's and class members' constitutional rights," Valenti wrote. "It is believed that Defendants will continue the widespread practice of unlawful detentions and will continue to force vehicle occupants to provide personal information in exchange for their release, all in violation of plaintiffs' and class plaintiffs' Fourth and Fourteenth Amendment rights."

An estimated 262,800 drivers have been detained since October 2006. The lawsuit seeks an injunction prohibiting Faneuil and FDOT from further detaining motorists. Neither FDOT nor Faneuil has answered the February 8 complaint.