2/16/2010
California: Class Action Suit Filed Over Illegal Towing
Class action lawsuit in San Francisco, California seeks refund for illegally towing cars.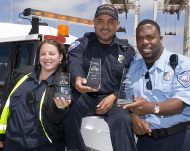 A California motorist is suing the city of San Francisco for towing his legally parked 1998 Toyota 4Runner. John J. Riley last month filed a class action suit arguing that the city, under its own municipal ordinances, lacked the authority to seize vehicles parked in the same spot for 72 hours. Riley had left his Toyota on Chestnut Street while out of the country. On November 28, 2008, a meter maid noticed it had not moved and ordered the Toyota towed away. The city imposed a total of $1000 in fees and fines for the vehicle's return. Riley had a valid residential parking sticker for the area.

"[San Francisco] has a policy, practice and custom of towing, or causing to be towed, otherwise legally parked vehicles without proper notice and legal authority to do so, in violation of vehicle owners' rights," Riley argued in his court filing. "No valid ordinance exists in the San Francisco Municipal Code authorizing defendant San Francisco to tow vehicles otherwise authorized to park on a city street for parking in excess of 72 hours."

According to city ordinances, towing is only allowed "when any legally required signage is posted giving notice." No such signs are posted anywhere in San Francisco. Riley also argued that the city ordinance is so confusingly drafted that it is impossible to meet its requirements for removing a vehicle from the streets. The citation left on Riley's car was also filled with defects, including a statement of the wrong fine amount and an instruction that vehicles must be moved "at least one block" to avoid towing. There is no such requirement in the city code.

Riley is demanding that the city refund the fines and fees collected from about two thousand motorists accused of parking in the same space for more than 72 hours. He is also asking that the city cease its towing practices immediately and pay $500,000 in compensatory damages for violating the due process rights of residents. The first hearing in the case is scheduled for June.