11/23/2008
Arizona: Red Light Camera Tickets a Speed Camera
Peoria, Arizona red light camera issues a ticket to a man wearing a speed camera costume.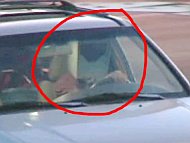 A red light camera in Peoria, Arizona issued an automated citation to what appeared to be a speed camera behind the wheel of an SUV. On the afternoon of September 14, a man wearing a speed camera costume allegedly entered the intersection of 83rd Avenue and Union Hills Drive a split-second after the light turned red.

Redflex, an Australian company that runs photo enforcement programs for nine jurisdictions in Arizona, sent the ticket electronically to the Peoria Police Department for approval. Because Arizona red light camera tickets carry license points, state law requires that the driver be positively identified before the citation is issued (view citation image). The Tuscon Police Department, for example, goes into detail on its website explaining the careful process used to ensure all citations are valid.

"Does a Police Officer review my complaint before it is mailed?" the department's website asks. "Yes. Every violation is reviewed by a Tucson Police Officer prior to a ticket being issued. The officer confirms the elements of the violation ensuring that there are grounds to believe a violation was committed, confirms the plate is readable and the driver is identifiable. The officer compares the photograph of the driver to the driver's license photo when possible. If there are reasonable grounds to believe an offense was committed and the person driving the vehicle is the one named, the officer places their name and badge number on the ticket and authorizes it to be issued. We believe that review of the violation by a trained police officer is critical in ensuring integrity in the process."

Peoria Police Department Officer Daniel Griffiths, whose name and signature is affixed to the citation, could not have conducted such a review without noticing that the face of the driver of the Nissan SUV, whose face was fully encased by painted cardboard, could not be identified.

Peoria was one of the first cities to revolt against photo enforcement. In 1991, residents voted 2-1 in favor of a resolution banning speed cameras. Despite this, the city council voted to impose red light cameras in October 2007. View video of the speed camera costume protest.