12/5/2007
UK Top Traffic Cop: License Suspended
The highest-ranking traffic policeman in the UK will have to ride the bicycle after losing his license for speeding.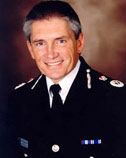 The official in charge of proposing rules and regulations for traffic policing across England, Wales and Northern Ireland has lost his right to drive for the next 42 days. Wrexham Magistrates' Court today convicted South Yorkshire Police Chief Constable Meredydd Hughes, 49, after a lawyer offered Hughes' guilty plea to the charge of driving 90 MPH in a 60 zone on the A5 in North Wales on May 28. A speed camera photographed Hughes while he was off-duty on vacation driving a £50,000 (US $100,000) Audi A8 sedan.

Hughes has championed speed cameras and the importance of campaigns to issue traffic tickets to motorists for the slightest of offenses. This has led activists such as Safe Speed's Paul Smith to question whether the police chief believes what he says in public.

"Were you driving safely Mr Hughes? If you were, then you have been lying to us about the importance of sticking to the speed limit," Smith said. "We don't believe for a single second that Mr Hughes was driving dangerously and he must now tell us the truth about the role of speed limits in road safety."

After the ticket became public in October, Hughes announced he would step down from his position as head of road policing for the Association of Chief Police Officers (ACPO). Instead, he will head ACPO's security planning efforts for the 2012 Olympic games. Smith believes Hughes no longer has the credibility to remain a police chief.

"The hypocrisy is breathtaking," Smith said. "Mr Hughes should clearly have been preaching what he practices -- because clearly he knows that exceeding the speed limit isn't necessarily dangerous."

View video of Hughes condemning speeders.