6/19/2007
Arizona Takes Over Scottsdale Freeway Speed Cameras
The state of Arizona takes the first step in its plan to deploy freeway speed cameras statewide by taking over the Scottsdale program.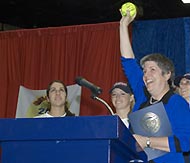 The city of Scottsdale, Arizona will vote today to hand over its freeway speed camera system to the state and finalize a switch in the private company that actually operates the system. The move is part of a plan by Governor Janet Napolitano (D) to install speed cameras on every major freeway in Arizona. Napolitano last week thwarted a last-minute attempt by the state House of Representatives to block the massive ticketing expansion through a budget amendment.

The Loop 101 cameras have generated millions in revenue this year alone. As of last month, the system issued 32,236 tickets worth a minimum of $5,222,232 in 2007. By the end of June, officials expect that figure to top $7.5 million. To ensure no interruption in ticketing, the state police will transition into nominal authority over the program between July and December this year by using Scottsdale's vendor contract and holding trials in the city court system. In return, Scottsdale will be allowed to keep all of the profit. As the vendor does all the work, the state's takeover is more of a formality dealing with the handover of paperwork, permits and responsibility for some of the court operations.

Today's vote comes as a blow to Australian camera vendor Redflex, which had operated the Loop 101 ticket system since February 2006. When contract renewal became an option, Scottsdale decided to switch to ATS, even though the costs charged will be essentially the same. ATS will install new cameras and pocket $47.48 for every ticket it is able to issue, in addition to a $16,566 monthly fee for the set of six cameras. The per-ticket bounty increases to $52.23 if the number of citations issued drops due to HOV lane construction set to begin in September.

A study of the effects of the first 110,962 tickets issued in 2006 -- worth $17 million -- documented a 54 percent increase in rear-end collisions and a 9 percent increase in injuries from rear-end collisions. These collisions happened as motorists nearing the cameras panicked and braked suddenly to avoid receiving a citation. They were then struck from behind by surprised motorists who had been following closely.

The full text of the city's contract with ATS and notes on its agreement with the state is available in a large 11mb PDF file from the city of Scottsdale here.