4/15/2007
Kansas: Big Rigs Equipped with Ticket Cameras
Federal gas tax money used to hide Kansas state troopers in big rig trucks so they can issue tickets to motorists.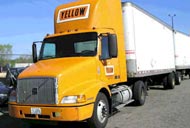 The Kansas Highway Patrol last week began spying on motorists from privately owned big rig trucks. As part of a new, federally funded effort, a state trooper sits in the passenger seat of each truck and operates a set of five video cameras and a radar gun to identify motorists to ticket. The trooper will then contact a patrol car hidden nearby to issue the citation. The program is expected to generate hundreds of thousands of dollars in ticket revenue over the next six weeks.

"I want to thank industry and governmental partners that have agreed to work with the Patrol on this important program," Kansas Highway Patrol Superintendent William R. Seck said in a statement.

Yellow Transportation, a Wichita company, provided trucks for the most recent operation at no cost to the state. The Federal Motor Carrier Safety Administration, which is funding the Kansas ticketing program, this month rewarded the cooperative company with its "highest safety rating" -- a valuable endorsement of Yellow's practices. In 2005, the federal agency similarly spent $600,000 in federal gas tax money to fund a ticketing program in Washington state.