9/29/2005
UK to See Major Increase in Speed Camera Tickets
A new data processing system will allow a six-fold increase in the number of speed camera tickets issued in the UK.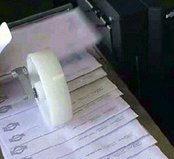 New technology is expected to allow an unprecedented increase in the number of speed camera citations issued in the UK this year. National Car Rental is already reporting a 102 percent surge in the number of photo speeding tickets issued to rental cars this year. Since January, the company has received £150,000 (US $264,000) in fines that it has passed on to renters. Fines for all other offenses such as parking tickets and congestion charge violations have similarly jumped 62 percent. National Car Rental maintains a fleet of 45,000 automobiles in the UK.

"These findings are very worrying," said Brian Jayes, Vice President UK Operations for National. "We have seen a massive jump and we are really hoping that this upward trend does not continue."

The Association of British Drivers (ABD) explains that a new ticket processing system called StarTraq allows for a six-fold increase in the number of tickets issued. Six speed camera partnerships have adopted the film scanning and computer processing system which was first used in South Africa.

The old method of processing photographs forced camera partnerships to raise the speed that triggers a ticket so that the processing system would not be overwhelmed. Each location, for example, could only handle about 800 tickets per day (worth £48,000 or US $84,000). The new process boosts that figure to 6000 tickets per day (£360,000 or US $633,000). StarTraq also features an Internet-accessible database of every photograph ever taken along with personal data on ticket recipients.

"It's a tragedy when road safety has moved so far away from saving lives that it is reduced to maximising the number of tickets and fines a partnership can process in a day," said Mark McArthur-Christie, the ABD's road safety spokesman.

In 2003, the UK government issued 1.9 million speed camera tickets to motorists.