7/19/2005
UK Tests HOV-Lane Cameras
New cameras claim to be able to count the number of car passengers and issue tickets to HOV lane violators.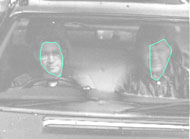 Although Britain only has two high-occupancy carpool or "car share" lanes, the Department for Transport is currently testing a new camera system designed by UK-based Laser Optical Engineering Ltd. that can count the number of persons in an automobile and issue photographic tickets to anyone it believes is driving without the required number of occupants. The devices are being tested in advance of a planned expansion of the restricted lanes in the UK.

The Cyclops Image System uses infrared cameras mounted on freeway overpasses that can capture a full view of the inside of a vehicle. Face detection software distinguishes between the skin of a driver or passenger and the background of the automobile. The manufacturer claims a 95 percent accuracy rate in being able to photograph and count the number of occupants in all weather conditions.

The Cyclops camera also claims the ability to distinguish between dummies, real humans and other animals while the vehicle is traveling up to 80 MPH. The system is also designed to be combined with additional ticketing functions for bus lane violations, congestion charges, tolls and other road tax schemes.

The UK government is currently conducting trials of the technology on the A647 in Leeds. The only other HOV lane in the country is located in Gloucestershire but Transport Secretary Alistair Darling announced on July 6 that he would study an expansion of the concept to the M1, M3, M61 and M62. A Texas Transportation Institute study released in March found a significant increase in accidents on Texas freeways that adopted non-buffer-separated carpooling lanes.