Article from: www.thenewspaper.com/news/63/6303.asp


9/27/2017
Speed Camera Executives Still Ignore Own Photo Radar Tickets
Leadership team at American Traffic Solutions ignored own photo radar tickets and attempted to dodge process servers.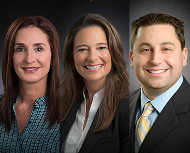 Arizona residents wondering whether it is safe to ignore their speed camera tickets might take inspiration from the new executive team at American Traffic Solutions (ATS). Court records show that high-ranking employees of the Arizona-based speed camera and red light camera provider have dodged process servers and ignored their own photo radar tickets.

For example, Liz Caracciolo, senior vice president of ATS Safety Solutions, was busted in 2012 for running a stop sign. In July 2014, she received a photo radar ticket in Scottsdale and promptly ignored it. After she successfully dodged the process servers that came to her door to personally deliver the citation, a judge ordered alternate service in October. She cleared up the ticket in December, the same month she was hired by ATS -- the same company that issued the ticket.

The top lawyer for ATS, Rebecca Kozloff Collins, also received a photo radar ticket in Scottsdale in June 2014. After she ignored the notice in the mail, a process server was sent to her home. Collins paid the ticket and went on to join ATS as general counsel in May 2016.

Vincent Brigidi had already been the senior vice president for ATS Fleet Services for a year when he ignored a ticket that had been mailed in November 2015, and a process server was sent in December to track Brigidi down and make him pay.

"Like everyone else we're human," ATS spokesman Charles Territo told TheNewspaper. "What's most important is that all of these fines were paid in full. Cameras help change behavior and for these drivers they have."

The leading opponents of photo radar in the state were less impressed by the conduct of the ATS employees and their attempts to dodge the process servers in Scottsdale.

"What else do you expect from the people who prey on citizens for a living?" Arizona Campaign for Liberty Director Shawn Dow said. "Government teamed up with a bunch of criminals -- convicted criminals, even -- to set up automated roadside bandits. Whatever it takes to get the money."

Photo enforcement executives have a long history of ignoring their own tickets, but both ATS and its main rival Redflex Traffic Systems of Australia have all-new leadership teams. David Roberts took over as ATS CEO after founders James and Adam Tuton sold their stake in the firm to Platinum Equity, a private equity firm, in a deal that closed in June. The details of the transaction have not been disclosed.