11/15/2008
Photo Enforcement Executives Ignore Own Tickets
Executives in the Arizona offices of two photo enforcement companies frequently ignore their own speed camera tickets.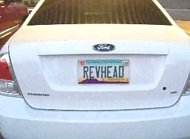 Executives at photo enforcement firms American Traffic Solutions (ATS) and Redflex have been caught ignoring their own speed camera tickets. Arizona motorists may safely throw away citations sent in the mail as state law requires that they be personally served with a violation notice within ninety days of the alleged offense. Tickets that are not properly served must be dismissed within 120 days.

That worked out for Shoba Vaitheeswaran, 33, the spokesman for the Arizona office of Redflex Traffic Systems. A ticket filed against her in September 2005 was dismissed after she ignored it. Vaitheeswaran was not an employee at the time, as she has only recently taken over the media relations role from Michael Ferraresi, 28. Ferraresi, himself a frequent ticket recipient, has been through a revolving door with the Australian camera vendor and the Arizona Republic newspaper. After writing stories about the company for the Republic, Redflex hired Ferraresi to be spokesman -- often speaking to his former colleagues at the paper about the company. Ferraresi is once again reporting for the Republic, a paper that offers enthusiastic editorial support for the use of speed cameras and red light cameras.

Although Redflex and ATS have the technical ability to ensure none of their own executives receive tickets, each company is able to issue tickets to employees of the other company. In May 2006, Redflex mailed a citation to ATS Executive Vice President of Field Operations John Petrozza, 44. Petrozza ignored the ticket, forcing Scottsdale Municipal Court to dismiss the violation on September 27, 2006. ATS spokesman Josh Weiss told TheNewspaper that Petrozza says he never received the ticket and he would never have intentionally ignored a citation.

In July, however, ATS employees actually issued a photo ticket to their own company president, James D. Tuton, 46. According to court records, Tuton had failed to respond to the charge by August 29 and a process server was dispatched in September. According to Weiss, Tuton made arrangements to take a driver education course before mid-December to avoid having points added to his license.

The local activist group camerafraud.com discovered these records and found itself torn between the principle of supporting any individual who fights a photo citation and opposing the companies that issue them.

"Allow us to momentarily enter the Twilight Zone while we, uh, applaud -- ? -- these people for ignoring the fraudulent photo enforcement tickets," the group said on its website.

Story updated on 11/17/08 to reflect ATS response.