12/3/2020
Ticket Quota Sparks Lawsuit From New Jersey Cops
Lawsuit by police union seeks order blocking ticket quota in Morristown, New Jersey.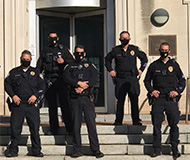 Officials in Morristown, New Jersey, have been pressuring police officers to issue parking and traffic tickets to make up for revenue losses during the virus scare. That was the claim made in a new lawsuit filed in state court by the Policemen's Benevolent Association Local Number 43.

"The members of PBA 43, the Morristown police officers, have been directed to engage in an illegal ticket quota system used to fund the operations of Morristown Township at the expense of citizens and motorists traveling through Morristown Township," attorney Charles J. Sciarra wrote. "In this trying time of a pandemic the defendant is seeking to punish the residents of Morristown to balance their budget."

The suit accuses town administrator Jillian Barrick of urging the department to fill in for revenue gaps with increased ticketing. The department's top brass quickly followed that order.

"I need to ensure that productivity is increasing or I will be in next week to begin addressing," police Captain Michael J. Buckley wrote in an October 7 email to Lieutenant David Tissot. "Please develop a plan with your sergeant to ensure the men are being productive in an enforcement manner."

The suit says that certain officers were punished by taking away their patrol cars and forcing them to work on foot, even though that meant they would no longer to respond quickly to emergencies. In a Facebook post, the union explained how this became a problem just two days after the "increase productivity" order was issued.

"There was a near fatal accident where a pedestrian was struck by a vehicle," a union representative wrote. "The officer on foot at the Green had to walk to 200 South Street to pick up a vehicle. That's nearly a mile walk. He was then instructed to pick up the other two officers on foot and bring them to headquarters to get into vehicles in order to help deal with the scene and calls for service. If you are questioning that logic, so are we."

New Jersey law prohibits police departments from using the number of tickets written as the "sole criterion" for punishing or promoting an officer. The suit claims that ticket quota numbers were in fact used to dish out punishments. The suit asks the court to issue an order stopping the ticket quota and clearing the personnel records of the affected officers.