8/28/2020
Arizona: Public Opposition Defeats Red Light Camera Proposal
Fountain Hills, Arizona turns away from controversial plan to implement red light cameras.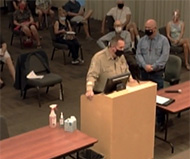 Going into a special meeting Monday, members of the Fountain Hills, Arizona, Town Council were unanimous in supporting the installation of a new red light camera. By the meeting's end, however, all seven councilmen voted to drop the idea permanently. Public opposition to the idea took center stage in the discussion.

"I received an avalanche of emails," councilman Alan Magazine explained.

Members discussed getting comments from residents calling them "money-grubbing Nazis." Members of the public lined up at the meeting to express their opposition to the plan. The attorney general was even called in to investigate allegations that the council violated open meeting laws to coordinate support for the cameras. This opposition had an effect.

"I was one hundred percent for this camera -- until I started doing my research," councilman David Spelich explained.

Spelich was surprised to learn that the cameras recorded video of every passing driver on a 24/7 basis. He was concerned about the possibility that the private companies running the program could misuse this information.

"Having a twenty-four year career in law enforcement, I thought I knew what red light cameras were and speed cameras were until I started researching them," Spelich continued. "I called the Chicago fusion center and spoke to somebody that had knowledge of red light cameras. They use red light cameras and speed cameras on a daily basis to track people... I find that very troubling... These companies have the sole rights to all these videos... They have the right to share that information with whomever they want to share that information."

Members of the city staff had recommended that a red light camera be installed at the intersection of Palisades Boulevard and Shea Boulevard to mail automated citations to people making slow, rolling right turns. Nonetheless, they complained about the way companies like Redflex Traffic Systems of Australia and Verra Mobility (formerly American Traffic Solutions) had responded to their inquiries.

"I attempted to get as much information as I could," public works director Justin Weldy said. "To say it was a challenging would be the very least... [The companies maintained] proprietary and contractual secrecy on how they make their money and what they do in regard to photo enforcement."

The vote was seven to zero to reject the camera proposal outright. As an alternative, council members supported a look at engineering fixes that could improve traffic safety at the location.

Arizona is home to the first public revolt at the ballot box against the use of automated ticketing machines. In 1991, more than two-thirds of Peoria voters decided to overturn the city council's photo radar deal with the company that went on to become Verra Mobility. Large majorities also voted cameras out in Sierra Vista and Tucson.