1/10/2020
US Supreme Court Takes Up Motorist Shooting Case
High court to decide whether it is ok to shoot innocent motorists as long as they are not killed right away.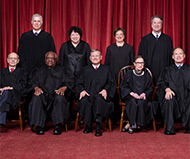 The US Supreme Court is poised to decide whether police can be held accountable for shooting an innocent motorist. The high court justices agreed to take up the case of Roxanne Torres, who was shot twice by Albuquerque, New Mexico police as she sat in her Toyota in an apartment parking lot on July 15, 2014, after having dropped off a friend.

Four New Mexico state police officers had staked out the area, hoping to serve a warrant on Kayenta Jackson. Officers Janice Madrid and Richard Williamson were wearing black tactical gear, and Torres did not recognize them as police when they came and tried to open the locked door of the Toyota unannounced.

Thinking she was about to be carjacked, Torres decided to drive forward to get away. The officers claimed they were in danger -- even though neither was in the vehicle's path. They fired thirteen 9mm rounds into the Toyota, striking Torres twice. Wounded, Torres continued driving out of the complex until she reached the hospital in Grants. The officers decided to charge Torres with assault and fleeing a police officer. Torres decided to fight back by suing them for violating her constitutional rights.

The Tenth Circuit US Count of Appeals held that because to bullets did not stop Torres that she had not been "seized" for to purposes of the Fourth Amendment. As such, she was not entitled to sue the officers for use of excessive force in violation of her constitutional rights.

"The result in this case serves to emphasize just how uneven our society's 'playing field' is," Rutherford Institute attorneys wrote in a friend of the court briefing. "Civilians can be civilly and criminally liable for the most minor of physical contact; the officers' actions here could hardly be described as minor, and yet two circuits would absolve them of any liability under Section 1983. As the institution most often responsible for striking the proper balance between police power and personal liberties, this court should act to narrow this imbalance."

The American Civil Liberties Union (ACLU) and Cato Institute also joined the suit to argue that police misconduct should not be ignored simply because a suspect was shot -- but not "stopped" by being killed. They also argued that because other appellate courts in similar cases came to conclusions that differed from the Tenth Circuit, the same police conduct would be legal in one part of the country but illegal in others. Police are involved in over 50,000 shootings each year.