8/24/2018
Feds Renew Push To Seize Pension Of Red Light Camera Convict
Federal prosecutors move to confiscate retirement fund of Chicago transportation official caught taking red light camera bribes from Redflex.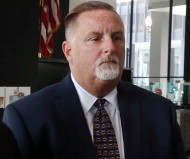 The red light camera bribery scandal that rocked Chicago, Illinois, continues to generate controversy. Federal prosecutors are anxious to get their hands on the $266,519 that John Bills paid into a pension fund while working as a Chicago transportation official. Because he accepted $2 million in bribes from Redflex Traffic Systems of Australia, officials insist they are entitled to the money as restitution for his crimes. Bills' ex-wife Margaret earlier this year blocked an attempt to confiscate the funds. Now that both sides have presented their case, it is up to US District Judge Virginia M. Kendall to decide. On Wednesday Judge Kendall scheduled a September 19 hearing on the matter.

At stake is $95,946 for Margaret Bills who has a 2012 divorce settlement entitling her to 36 percent of John Bills' pension (half of the amount deposited while they were married). She presented a state court order issued in April to clarify that the conviction of John Bills does not change the intent of the settlement.

"To award [Margaret Bills] no portion of the value of said contributions and [John Bills] 100 percent of the value of said contributions in the event... [John Bills] was convicted of a felony... is an inequitable result and not one contemplated or intended by the parties as evidenced by the marital settlement agreement," Cook County Circuit Court Judge Elizabeth Rivera ruled. "It was the express intention of the parties in the [settlement]... for [Margaret Bills] to receive 36 percent of the then existing value of the pension account, regardless of source and the conduct of [John Bills]."

The state ruling did not impress assistant US Attorney Joseph A. Stewart, who argued it has no impact in a federal proceeding. The US government's lien on the pension takes precedence, he insisted.

"Because the United States was not made a party to the state court proceeding, there was no issue of res judicata or collateral estoppel constraining the federal court's decision," Stewart wrote. "As such, the district court is effectively sitting as a state court and is not bound by, effectively, another state court."

Since the divorce settlement only talked about sharing a cut of the monthly payment with Margaret Bills, and the document does not bring up the issue of a pension refund, Stewart argued that Margaret Bills would essentially be re-writing the agreement to apply her claim to the forfeited pension.

Karen Finley, the Redflex executive who was convicted of approving the bribe payments to John Bills, has been released to a federal halfway house in Phoenix, Arizona. Her prison term ends in December. John Bills will remain in federal custody until 2024.