2/1/2018
Ireland: Motorists Receiving License Points For Not Checking Tire Pressure
Drivers in Ireland face points against their license if stopped while driving with low tire pressure.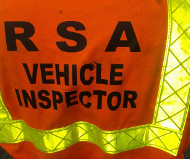 Irish motorists face higher insurance premiums, potential loss of license and a 80 euro (US $100) ticket if they hit the road without first checking the pressure of all four tires. Ireland's traffic code has long banned the use of "unsuitable" tires that are excessively worn or otherwise damaged. The rules make reference to the need to maintain an appropriate tire pressure.

"The tire is not fit for the use to which the vehicle is being put, due to the degree of inflation of the tire," Irish road traffic regulations state.

On April 17, 2016, Minister for Transport Paschal Donohoe reclassified the unsuitable tire offenses as ones that receive a set fine and license points. The Road Safety Authority has been enforcing the rules by setting up police roadblocks for the sole purpose of issuing tickets for mechanical defects.

"I would strongly recommend that you check your tires at least once a month," Road Safety Authority chief executive Moyagh Murdock said in announcing the new government policy. "The easiest way to do this is to call into your local garage and get your tires checked by an expert."

Lobbyists for the tire industry had pushed for the crackdown. Continental Tire Group, for example, has been using the "Vision Zero" political branding as a means of promoting sales of replacement tires. Several firms advocated changing the legal definition of a worn tire from 3mm to 1.6mm. Michelin blasted the idea, citing the results of its own extensive testing.

"Quite surprisingly we have discovered that some tires worn to the legal limit have a wet braking distance virtually the same as some new tires," the company explained in a statement. "And this is one of our corporate messages; tread depth is not a good indicator of wet braking performance."

The Independent reported Wednesday that Irish police handed out 1684 tickets for tire-related offenses since the new rules took effect. The first tire pressure-related ticket was issued last year.