8/3/2017
Louisiana, Ohio Residents Sign Petition To End Traffic Cams
Referendum petitions to end automated ticketing are circulating in New Orleans, Louisiana and East Liverpool, Ohio.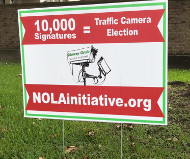 The issue of red light cameras and speed cameras could come to a vote in two more communities in Louisiana and Ohio. Petitions being circulated in New Orleans and East Liverpool would take the question out of the hands of local politicians and leave it to voters to make the ultimate call.

The group calling itself NOLA Initiative began collecting signatures in The Big Easy last week, and already the effort has received an enthusiastic reception from the public.

"It is shockingly successful so far," the group's leader, Mike Boler, told TheNewspaper. "In about a four hour period at one location, we will collect about 200 signatures a day, and we will probably do that every day."

A total of 10,000 verified signatures are needed to place a proposal on the next ballot. Volunteers will be stationed at up to a dozen regular locations to find residents who favor having a vote on the issue.

"The nature of New Orleans being a walking city, it really is incredibly doable," Boler explained. "We've got football games coming up -- Saints games, Tulane games -- I think we can finish it early."

If the signatures are found valid, and the voters approve the ballot measure, the New Orleans city charter would be amended with a straightforward ban on photo enforcement.

"Automated traffic enforcement systems are banned," the proposal states. "Automated traffic enforcement systems shall mean a system that consists of a still camera system and/or full motion video camera system installed to work in conjunction with an electronically operated traffic control signal and/or to document speed limit violations."

The group East Liverpool Citizens Against Traffic Cameras is already ahead of the game, having collected more signatures than were needed and submitted the petitions to the city auditor for verification. The group believes the use of civil violation tickets undermines traditional constitutional protections while undermining public trust and safety.

"The truth is that this is not fundamentally about safety," the group's leader explained. "It's about revenue. The truth is that speeding was a non-issue until our mayor and safety service director decided unilaterally to engage in a contract with Blue Line Solutions. This decision needlessly damaged the trust between citizens and the police sworn to protect and serve them."

Both efforts have a high likelihood of success at the ballot box given the results of past votes. Sulphur, Louisiana, 86 percent of voters rejected the use of cameras. Likewise, voters in in Ashtabula, Cincinnati, Chillichothe, Heath, Garfield Heights, South Euclid, Steubenville endorsed a similar ban.