3/7/2017
Ex-Redflex VP Seeks $2 Million Bounty From Corruption Settlement
Former Redflex executive vice president insists he is entitled to a cut of the $20 million bribery settlement with Chicago, Illinois.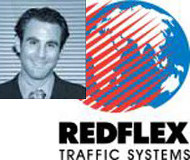 Aaron M. Rosenberg encouraged local officials to use red light cameras and speed cameras by distributing bribes in a dozen states. On Wednesday, he will appear in the Dirksen Federal Court Building before Judge John J. Tharp Jr to demand a cut of the $20 million settlement his former employer, Redflex Traffic Systems, made with Chicago, Illinois for violating the city's ethics code.

It was Rosenberg who filed the "qui tam" lawsuit against Redflex, setting the stage for a $377 million windfall until the Windy City's attorneys cut Rosenberg out of the deal. Judge Tharp agreed Rosenberg should not be a party to the lawsuit, but Rosenberg intends to make a second push to get $2 million, plus $331,404 in legal fees, which he believes is his fair share.

"Mindful of this court's earlier ruling Mr. Rosenberg will not re-argue that the information he provided was the primary basis for the action," Rosenberg attorney John J. Muldoon III wrote to Judge Tharp. "But even with the court's finding that Mr. Rosenberg's complaint was based on publicly disclosed information, Mr. Rosenberg is entitled to up to ten percent of the recovery. The False Claims Ordinance mandates payment in that range for a person who brings the lawsuit and assists in the prosecution of the case; even if that person's information is not the primary basis on which the lawsuit was conducted."

Rosenberg may find an uphill battle reopening the case. Judge Tharp last month overruled Rosenberg's attempt to block the $20 million settlement as paltry.

"The city claimed damages in excess of $377 million and civil penalties of about $15 million," Muldoon wrote. "Despite the enormity of the damages caused to city and its citizens by Redflex, the city has proposed to settle this matter for $20 million -- a mere five percent of the recovery it is entitled under the False Claims Ordinance.... Given the enormity of Redflex's profits from its illegal conduct, an inquiry into the propriety of the settlement, and whether the company entered it in good faith, is indispensable."

As soon as Rosenberg learned that federal officials were investigating Redflex Traffic Systems, he began informing on his boss, Karen Finley, assisting in her conviction on corruption charges. Finley is confined to the Victorville Federal Correctional Institution until her scheduled April 9, 2019, release. Rosenberg is seeking a pay day for his cooperation with the feds and the $117,911 in expenses racked up by Muldoon's law firm.

"He met for hours with the city identifying key documents and explaining Redflex's corrupt system in painstaking detail," Muldoon wrote. "In total, relator's counsel expended 541 hours in joint prosecution of this action with the city and paid $9870.75 in out of pocket expenses."