12/6/2016
US Transportation Department Wants More Sun Visor Stickers
Administration proposes to add an unremovable sun visor sticker advertising a government website for complaints.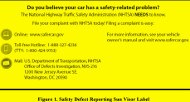 Sun visors on new cars will soon be covered by one more unremovable government warning sticker. The Obama administration last week took the first step in requiring that all vehicles advertise the National Highway Traffic Safety Administration (NHTSA) website where motorists can file safety-related complaints. The notice would appear alongside existing airbag warnings on passenger sun visors.

Congress came up with the idea in a 2012 law that required information about filing safety complaints be provided in each vehicle's owner's manual, along with a card or sticker in the glove box or another "accessible" location -- lawmakers left the details up to NHTSA. Administration officials, on their own authority, decided that the sun visor was a better location because it is much more prominent.

"NHTSA considered the glove compartment for prominence and accessibility, as this location was specifically suggested by Congress," the proposal explains. "The agency's preferred alternative for placement of the sticker, decal, or other device is the passenger side sun visor."

As with existing airbag stickers and SUV rollover warnings, the new complaint sticker will come with rules about minimum sizes and the mandatory use of boldface type meant to clash with vehicle interiors.

"To the extent that a manufacturer seeks to 'blend' the label into preexisting vehicle designs, we believe this may detract from the purpose of the requirement," the proposal explains.

The proposal requires automakers to advertise NHTSA's SaferCar.gov, a website that contains more than just objective information about how to lodge complaints. The site prominently links to publicity material, including press releases commending Transportation Secretary Anthony Foxx for other regulatory proposals.

In addition to the sun visor sticker, automakers must include a longer description of the complaint filing process in no less than ten-point type in the owner's manual. Companies that fail to meet the exact sticker and owner's manual requirements will be fined $1000 per non-compliant vehicle. The agency is taking public comment on the proposal, which may be filed here, until January 27. The proposal will take effect one year after the final rule is published in the Federal Register.

Article Excerpt:

Required wording on the label:


Do you believe your vehicle has a safety-related problem?

The National Highway Traffic Safety Administration (NHTSA) NEEDS to know.

File your complaint with NHTSA today! Filing a complaint is easy:

Online: http://www.safercar.gov

Toll-free Hotline: 1-888-327-4236 (TTY: 1-800-424-9153)

Mail: U.S. Department of Transportation, NHTSA, Office of Defects Investigation, NEF-100, 1200 New Jersey Avenue SE., Washington, DC 20077-9382.

Information about how to keep your vehicle safe can be found at www.SaferCar.gov.