12/16/2015
Redflex Updates Investors On Bribery Charges
New legal filing alleges that Redflex won the Chicago, Illinois contract by out-bribing its competitor.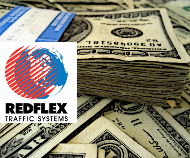 Redflex Traffic Systems could be on the hook for $383 million in damages in the Chicago, Illinois bribery trial. The Australian firm told investors on Tuesday that it was not just company executives in legal jeopardy. A newly amended federal lawsuit names the corporation as complicit in the false claims, fraud, civil conspiracy and unjust enrichment.

"Both the company [Redflex Holdings Limited] and Redflex Traffic Systems Inc will, in defending this legal action, make use of all available legal defenses," the firm said in a statement to the Australian Securities Exchange.

The charge against the company is straightforward. All companies involved in public contracts with the city of Chicago must certify that they will follow ethics rules and not bribe any city employees. Redflex certified under penalty of perjury that no bribery took place.

"Redflex Holdings Limited also repeatedly falsely certified on economic disclosure statements that no agents of Redflex Holdings Limited, during the prior five years, had bribed or attempted to bribe an employee of the city," Chicago Corporation Counsel Stephen R. Patton wrote.

Redflex did, in fact, bribe Chicago employees, as the former head of US operations admitted. According to city attorneys, deputy Chicago transportation commissioner John Bills offered Redflex an insider advantage over its competitor, Affiliated Computer Services (ACS), as long as Redflex opened its checkbook wide.

"Bills also said that ACS's representative had offered to pay Bills, possibly $100,000, if Bills helped ACS," Patton wrote. "Bills gave the information regarding ACS and instructed Redflex Traffic Systems Inc to 'step-up its game' in order to let Redflex Traffic Systems Inc know that his assistance was necessary to get the city contract."

According to the city, Redflex knew exactly what it was doing. Redflex Executive Vice President Aaron M. Rosenberg, who has also been turning state's evidence, explained that he worked closely with the Redflex board of directors in Australia discussing US sales plans, budgets and strategies. Top officials were pleased with the results.

It is common for red light camera contracts to have inexplicable provisions that benefit the camera vendor. The favorable provisions in Chicago's contract were the product of bribery.

"Although leasing the cameras was a lower cost option for the city, both in terms of initial expenditure and long-term maintenance and repair costs, [former Redflex US chief Bruce] Higgins directed Rosenberg to convince Bills to have the city purchase the cameras," Patton wrote. "The city's purchase of the cameras would help Redflex Traffic Systems Inc with cash-capitalization issues."

The city wants damages of $382,913,937, which is three times the $125,904,645 that Redflex pocketed from the contract, plus $10,000 for each of the 520 invoices that Redflex sent to the city. Each invoice contained material falsehoods and constitute separate offenses. Bills is pleading not guilty to the charges.