12/4/2015
Federal Judge Prepares For Redflex Corruption Trial
Government prosecutors reveal strategy for upcoming trial over Redflex bribery in Chicago, Illinois.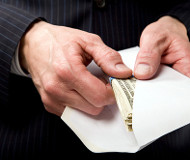 US District Judge Virginia M. Kendall on Thursday held a hearing to prepare for January's red light camera corruption trial of John Bills. Government prosecutors took the opportunity to provide Judge Kendall with a sample of the evidence they plan to use to show a conspiracy between Redflex Traffic Systems of Australia and Bills, who used to be in charge of the Windy City's red light camera program.

Bills stands accused of being the prime beneficiary of $2 million in Redflex bribes that were funneled through his lobbyist friend, Martin O'Malley, and Redflex Executive Vice President Aaron M. Rosenberg. Rosenberg, O'Malley and Karen Finley, the head of US operations for Redflex, have already admitted guilt.

According to the newly cited evidence, the bribes started in 2003, when Bills and Rosenberg began meeting to discuss the original Chicago camera contract. Rosenberg operated out of the Redflex office in Culver City, California, so when Bills mentioned that he was passing through Los Angeles, Rosenberg asked if there was anything he could do while he was out there. Bills said he wanted a hotel room, so Rosenberg bought him a room on the Redflex expense account. The hospitality effort paid off, as Rosenberg explained in a February 6, 2003 email to Finley.

"My contact [Bills] has already told me that he primed Mayor Daley that Redflex has the best system in the market -- bar none," Rosenberg wrote.

Bills continued to guide Redflex through the complicated contract approval process, offering an insider advantage over rival vendor Affiliated Computer Services.

"We could not be in a better situation," Rosenberg wrote in a May 19, 2003 email. "Trust me! We have almost removed all the unknowns; the politics and we have positioned the evaluation to ensure a positive (and significant) Redflex outcome."

After delivering on his promise to Rosenberg, Bills allegedly told him, "It's time to make good." Rosenberg said they discussed how to funnel around $200,000 to Bills without getting caught. Ultimately, the payments were made through O'Malley, who received $1500 in commissions for each camera installed by Chicago. O'Malley understood that most of this bonus money was to end up being given to Bills.

In 2006, Bills flew to the Redflex office in Arizona to write a no-bid contract for Redflex to handle maintenance of the cameras. Redflex involvement in the process was concealed. The scheme worked, and the relationship between Bills and Redflex continued to blossom.

At some point, Rosenberg decided to record his business phone calls as an insurance policy. Prosecutors introduced a 2008 conversation between Rosenberg and Bills where they discussed how the city was going to have a "sole source review" meeting to discuss the no-bid maintenance contract with Redflex. Rosenberg told Bills that he had rented a car for him and parked it in a convenient spot. Bills said Chicago would probably install 120 red light cameras that year.

Government prosecutors are being careful to keep the trial focused and avoid discussion of Redflex corruption in other cities. Prosecutors asked Judge Kendall to forbid any mention at trial of Jefferson Parish, Louisiana where O'Malley introduced Rosenberg to a lobbyist who was paid a percentage of every red light camera ticket issued. Though not identified in the court papers, lobbyist Bryan Wagner, a former New Orleans city councilman, received a 3.2 percent cut of Redflex profit in the parish.

"The introduction of the incomplete and vague allegations outlined above, especially as they pertain to Redflex, will work only to confuse and mislead the jury," US Attorney Zachary T. Fardon told the court.

Prosecutors also sought to exclude mention of the August 24, 2010 whistleblower letter from Redflex Vice President Robert Feiler to Redflex Chairman Max Findlay. Feiler's documentation of Rosenberg's expense account fraud served as the basis for the Chicago Tribune investigation that brought the scheme to the public's attention.

"The sensational allegations in the Feiler letter -- alleging an unprofessional workplace at Redflex -- are simply that: sensational allegations," Fardon wrote. "They have nothing to do with the allegations with which Bills stands accused, or to which Finley has entered a plea of guilty."

Prosecutors may link the scandal to powerful Chicago politicians. In 2010, Bills met with then-Mayor Richard M. Daley (D) to set up a speed camera program. He also worked with House Speaker Michael J. Madigan (D) on the program that was eventually approved.

Both sides have until next Tuesday to decide on a set of instructions for the jury.