6/24/2015
Photo Enforcement Industry Consolidates In Europe
Sensys of Sweden merges with Gatso of The Netherlands to form European photo ticketing giant while Redflex shrinks.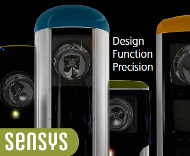 The Swedish firm Sensys AB announced on Tuesday its intention to become Europe's largest manufacturer of automated ticketing machines with the purchase of Dutch photo ticketing firm Gatso BV. Shareholders will be asked to approve the 278 million kronor (US$34 million) deal at the Sensys annual meeting in Jonkoping on July 24.

"The combined company will have strong presence in Europe, the Middle East, Asia and Australia, and will also have a foothold in the North American managed services market," a Sensys notice to investors explained.

Both Sensys and Gatso operate small offices servicing a handful of towns in the United States, though Sensys in the past has denied that it runs the subsidiary that gave the Swedish firm a "foothold" in North America. The combined Sensys Gatso Group would have a revenue of 436 million kronor (US$53 million) from the operation of 18,000 cameras.

Gatso is currently headed by Timo Gatsonides, grandson of Maurice Gatsonides, the former rally car driver who helped develop the modern radar-based speed camera in 1958. Although the firm claims credit for inventing the speed camera, the technology existed for half a century before Maurice Gatsonides began his experiments. Early cameras used a more labor-intensive and crude technique known as photogrammetry to estimate speeds.

Sensys is able to acquire Gatso because the European and Middle Eastern photo radar market is booming.

"Sensys Traffic has never been stronger," the firm boasted in its latest annual report. "2014 was a highly successful year for Sensys Traffic, with strong sales growth of 157 percent, healthy margins, robust cash flow and an extremely solid balance sheet by the end of the year.... Contracts with the Swedish Transport Administration fueled our growth in 2014, with a sharp increase in production during the first half of the year."

The same cannot be said for photo ticketing in the United States where opposition to automated ticketing has drastically reduced demand for speed cameras and red light cameras. Earlier this month, Redflex Traffic Systems of Australia announced it expected to lose $18 million this year.

Four years ago, toll road giant Macquarie Bank tried to buy Redflex with an offer of $2.75 per share. Stockholders rejected the offer, and today Redflex is trading at a mere 40 cents per share, near an all-time low. In light of the ongoing Redflex bribery scandal in Ohio and Chicago, Illinois, no companies have expressed public interest in acquiring Redflex despite the bargain price.