10/20/2014
Controversy Brews As Voters Take on Traffic Cameras
Red light camera and speed camera bans appear on the ballots in Arizona, Ohio and Missouri.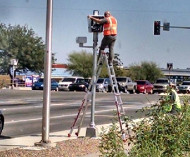 Red light camera and speed camera companies are seeing their market diminish rapidly, and employees are nervous. In two weeks, voters in three states have a chance to outlaw automated ticketing through local ballot measures. Cristian Pop, a technician for Redflex Traffic Systems of Australia will appear in court October 30 on charges that he stole the anti-camera "Vote Yes on 408" campaign sign on Thursday, tossing it into a nearby field.

"He did this on a major street, in broad day light, and without regard for our First Amendment rights or our legal right to campaign," Robert Montgomery, leader of the referendum effort, said. "It's ridiculous. It's wrong. It's disgusting."

The Redflex technician reportedly admitted to Sierra Vista Police that he had taken the sign because he disagreed with the referendum effort. The technician is charged with misdemeanor criminal damage which carries a punishment of up to 4 months in jail and a $750 fine. Despite the interference with his campaign, Montgomery is optimistic about the prospects of the camera ban vote.

"Support pours in daily," he told TheNewspaper. "But I don't take anything for granted."

In Cleveland, Ohio, members of the Camera Removal team "occupied" various intersections last week to raise awareness of ballot Issue 35, which bans speed cameras and red light cameras. The bipartisan effort was sponsored by Black on Black Crime and Liberate Ohio. The city council did not attempt to block the vote after the initiative petition was certified as valid.

The vote is also scheduled in nearby Maple Heights after the state Supreme Court blasted the city for its attempt to block the public from having a say in whether cameras are used. As a result, Proposed Charter Amendment 99 was added to the ballot.

"Shall the charter of the city of Maple Heights be amended to add new Article XXII," the amendment states, "which provides that the city shall not use any traffic law photo-monitoring device for the enforcement of a qualified traffic law violation, unless a law enforcement officer is present at the location of the device and personally issues the ticket to the alleged violator at the time and location of the violation; and that the city shall not enter into, renew, amend, modify, or make any payment under a contract with a vendor for traffic law photo-monitoring devices or services if the contract involves payment to the vendor that is contingent upon the number of tickets issued or the amount of fines levied or; and that qualified traffic violations shall be tried only before a judge in either municipal or common pleas court, and the accused will be afforded all rights then generally afforded to defendants in criminal cases under the constitutions and laws of the United States and the state of Ohio?"

Voters in St. Charles, Missouri will also be asked to amend the county charter to ban automated ticketing machines on November 4.

"Red light cameras or similar photograph devices or automated traffic enforcement systems may not be used in enforcing traffic regulations adopted by St. Charles County or by any municipality within St. Charles County that prohibit drivers from entering intersections when controlled by red traffic lights, and no such municipality may exercise the legislative power to use such cameras or devices or systems," the proposition states.

Cities are reluctant to allow such programs to go to a vote because they are often overwhelmingly defeated at the polls. To date, photo enforcement has been defeated in 27 of 30 election contests (view complete list).