9/19/2014
California Workers Sue Red Light Camera Firm Over Poor Pay, Conditions
American Traffic Solutions under fire for underpaying workers in California.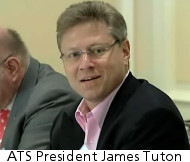 A red light camera vendor may be forced to pay millions in back pay to its employees. A number of them have taken their claim to a San Mateo County courtroom with the dispute creating a rift between American Traffic Solutions (ATS) and the cities that are its customers.

"We're taking advantage of the economic times to grow our business," ATS President James Tuton explained at a Phoenix Business Journal event in 2011. "Services are cheap. Whatever it used to cost us to do trenching and boring is now a tenth of what it used to cost... People are throwing themselves at us now just to keep the people employed. So we're taking advantage of it."

In July, the city of Millbrae decided to withhold $92,654 in red light camera contract payments to ATS over the wage dispute filed by former ATS field service technician Matthew G. Jaime. Under state law, a city must set aside funds to cover the potential damages whenever a claim is made on a public construction project.

ATS paid Jaime $20 an hour to maintain and repair red light cameras in a number of cities from February 2010 through April 2014. Jaime's lawsuit contends this hourly rate was illegally low. Contractors are supposed to be paid higher union rates known as "prevailing wage" on public works projects under California law. In this case, Jaime should have been paid the union rate for the classification of "Electrician: Inside Wireman" which is $39 an hour, or $58 with benefits.

The discrepancy adds up to a significant amount. ATS paid Jaime $35,307 for his work in South San Francisco. He says he is owed another $73,857. In Capitola, ATS paid $15,455, underpaying by $28,066. In Davis, ATS paid $12,500 leaving $19,602 unpaid. ATS denies it owes one cent more.

"Any maintenance or other work performed by Mr. Jaime on ATS' behalf in connection with the program is incidental to the true purpose of ATS' agreement with the city, which is to provide red light monitoring and enforcement services to the city using ATS' Axsis system," ATS project manager Raymond L. Pedrosa said in an affidavit. "Mr. Jaime was not paid the prevailing wage rate because the red light photo program was not and is not a public works project."

The ATS argument has already been rejected by the California Department of Industrial Relations, which has taken action against both ATS and its main rival Redflex Traffic Systems of Australia in more than a dozen cities where the companies ignored the law (view case). Last week, Millbrae demanded that ATS send lawyers to defend the city against Jaime's lawsuit, as the city's contract with ATS requires the company to handle such challenges.

"Pursuant to the provisions of the agreement, it is ATS's obligation to defend and indemnify the city with regard to the lawsuit," Millbrae's attorney Alexandra V. Atencio wrote. "It is important that ATS accept this tender as soon as possible as the city has already or soon will begin incurring attorneys' fees and costs in defense of the lawsuit."

In addition to Jaime, two other former ATS employees, Peter Arroyo and Matthew Richard Borchardt, joined the suit. Together they worked on red light camera projects in Capitola, Davis, Los Angeles, Long Beach, Millbrae, Palm Springs, Riverside, Santa Barbara, San Bernardino, Santa Maria, South San Francisco and Whittier.

The employees say that ATS did not pay them overtime, as required, and were denied meal and rest breaks.

"In doing the acts as alleged herein, in deliberately acting to take each and every plaintiffs' labor without pay and in deliberately acting to take each and every plaintiffs' wages, ATS, and each of them, acted with malice, oppression and with an intent to deny plaintiffs their wages, all in a willful and conscious disregard for the rights of the plaintiffs," Richard E. Donahoo, the employees' attorney, wrote.

The employees are seeking a declaration that ATS has engaged in unlawful and unfair business practices. They seek back wages, plus interest, penalties and attorneys' fees.