9/15/2014
Florida: Red Light Camera Ballot Battle Hits The Courtroom
Brooksville, Florida conspires with red light camera company to deny the public a vote on red light cameras.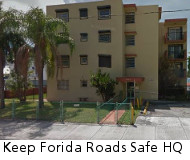 Officials from the city of Brooksville, Florida have been conspiring with photo ticketing vendors to keep residents from having a say in whether red light cameras are used in the community. Patrick and Shirley Miketinac successfully filed a petition calling for a vote on a city charter amendment that would outlaw the use of cameras. As soon as the supervisor of elections certified that a sufficient number of petition signatures were valid, the city's leadership began coordinating with Sensys, the private company that runs the camera program, to block the Miketinacs' access to the ballot.

"This is the answer from our lawyers," the head of US operations for Sensys, Carlos Lofstedt, wrote in a June 11 email to the Brooksville's city attorney and city manager. "'I agree that a lawsuit needs to be filed in order to try to prevent it from going on the ballot. It looks like they covered the bases.'"

Brooksville filed the first lawsuit to block the election by arguing the proposed charter amendment impermissibly forbids the city council from doing something authorized by state law. This was followed by the formation of a camera industry front group, Keep Florida Roads Safe, on August 25. On the same day, the group filed a separate lawsuit to block the vote.

"They claim it's a grassroots organization," Patrick Miketinac told TheNewspaper. "When they came to the case management hearing, there were only two lawyers -- maybe more, I'm not sure -- but not one blade of grass or a grass root anywhere to be seen, except for our people. We filled the courtroom."

The front group was initially registered at the address of a sixteen-unit apartment building in Miami, four blocks away from the US office of the Swedish red light camera company Sensys. After WTSP-TV began investigating, the group filed corrected papers on September 5 that moved the headquarters to Lakewood Ranch in Manatee County. American Traffic Solutions, which holds the majority of photo ticketing contracts in Florida, admitted involvement in the group to WTSP.

Patrick Miketinac believes the charter amendment language will hold up in court because it was drafted by Hernando County commissioners, who initially intended a countywide vote on banning cameras. He is also confident that residents are on his side. When he started going door-to-door to talk to neighbors, Miketinac found about nine out of ten people he approached supported the effort..

"Some people from a distance started running to try to hurry up and sign the petition," Miketinac said.

A hearing is scheduled next month on the motion for a declaratory judgment on the petition's validity.