8/28/2014
No Jail For Oklahoma Cop Who Lied About Beating Motorist
After admitting perjury in cover up of the beating of a motorist, Miami, Oklahoma police officer sentenced to unsupervised probation.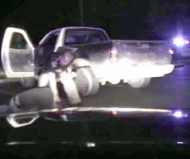 Miami, Oklahoma police officer Teresa Lashmet will not spend any time in jail after admitting that she committed perjury to cover up the brutal beating of a motorist that was caught on a dashcam video. Ottawa County Judge Bill Culver on Tuesday imposed a sentence of unsupervised probation for three years, deferred, and a $300 fine after she entered a plea of no contest to a charge of "outraging public decency."

In 2012, Lashmet was hailed as Miami's first female police officer, and she had high hopes of making detective. That hope died after she participated in the brutal beating of Jerry Dean Payne Jr. on May 14, 2013. She claimed that Payne was speeding and driving erratically. The officers signaled Payne's 2004 Ford F-150 pickup truck to pull over. He stopped in the parking lot of the Stables Casino.

"Stop, stop the car right now," Oklahoma Highway Patrol Officer Kenny McKee yelled as Payne's truck came to a rest in a parking spot.

Payne immediately opened the door to his truck and stuck both of his hands out the door so that they were clearly visible in the patrol car's headlights. Officer Lashmet approached with her gun drawn. She then helped McKee yank Payne out of the truck and face first onto the pavement. A third officer, Jeremy Myers, ran up to Payne and kicked him in the face while he was subdued.

Battered and bruised, with broken teeth, Payne was taken to jail accused of driving under the influence of alcohol and obstructing an officer. In her arrest report, Lashmet provided a version of events directly contradicted by the video evidence.

"The driver immediately got out of his truck," she wrote. "Due to Payne refusing to exit his truck, McKee then pulled Payne from the truck and we placed him on the ground using a straight arm bar technique... Payne received a scratch on his left cheek and a bump above his left eye when we placed him on the ground."

The drunk driving charges were dropped once the state police trooper's video surfaced. Defense lawyers had also subpoenaed footage from the casino's security system which showed enough of the incident that the head of security called the Miami police chief to say he was "concerned" by what he saw that night.

When Ottawa County Assistant District Attorney Ben Loring opened an investigation into the incident in October 2013, he found Miami Police detectives were willing to go on the record to confirm that incidents similar to Payne's were common.

"They went on to say that there was weak and inappropriate supervision on that [midnight] shift and that in their opinions the supervisors were as guilty of using excessive force as anyone else," Loring wrote in a memo to the attorney general's office. "I asked if they think [Lashmet] is being ordered as to what to put in her reports, and they both said they were certain that was happening. They also stated that because nothing happens to the violating officers, the general mood of the midnight shift is that everyone might as well go along with the inappropriate behavior as it has become the norm."

Payne filed a federal excessive force lawsuit against Officers Lashmet, Myers and McKee in January. Lawyers for both sides in the case met in arbitration last month but failed to reach a settlement. US District Court Judge Gregory K. Frizzell scheduled a preliminary trial date of April 20, 2015 for the civil case.