6/20/2014
Riverside, California Prepares To Dump Red Light Cameras
City council in Riverside, California votes 6-1 on preliminary motion to cancel red light camera contract with Redflex.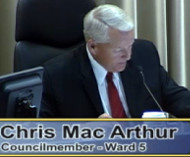 Officials in Riverside, California have lost faith in red light cameras after eight years of use. On Tuesday, Councilman Chris MacArthur moved to have staff draft a proposal that cancel the city's contract with Redflex Traffic Systems of Australia and bring down all fourteen cameras -- to applause in the council chambers. The motion passed six to one.

MacArthur made his case by listing each photo enforced intersection in his ward along with the number of accidents before and after camera installation. There was no reduction in collisions. MacArthur pointed out that the devices are so unpopular that more than 50 cities in California have dropped photo enforcement, including Corona, Loma Linda, Murrieta, Poway, San Bernardino and Yucaipa. MacArthur surveyed his constituents, and of the 125 who responded, 78 percent opposed cameras, with one resident calling it "a parasitic source of city income."

Councilman Mike Soubirous, a former police officer, went out and photographed one of the camera-monitored intersections to point out that the red signal is turned in such a way that it is only half-visible from the far right-hand lane. This makes the signal much less visible to traffic turning right, and drivers who do not see it are hit with a $500 fine. Soubirous asked Caltrans to add an additional signal light. Soubirous also pointed out that the city was one of the few to have photo radar back in 1993 and the public is reacting to red light cameras in the same way.

"It wasn't very popular with the people, and off it went," Soubirous said. "Everybody I talked to as I walked on my campaign... It seems this transcends demographics. Whether you're rich or poor, old or young... The vast majority of people hate these things... We were one of the first cities around to get photo radar, and we got rid of it. The other cities around us are all dismantling the red light cameras. I think the time has come, and the public will be very, very happy when we do."

The city council voted in 2012 to put the question of whether cameras should be used to voters. Eight months later, city leaders reneged on their promise and withdrew the ballot measure. The new motion to terminate the camera program will be considered in three weeks.