4/3/2014
Ireland: Whistleblower Exposes Faulty Speed Camera Equipment
Irish television finds speed camera company ignores warnings about faulty equipment and setup procedures.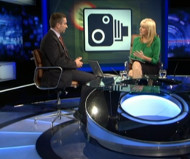 Speed cameras around the world have been caught issuing citations to thousands of motorists who were not speeding. A camera in Melbourne, Australia issued $26 million in bogus tickets a decade ago. Just last year, one in ten tickets issued in Baltimore, Maryland was based on a faulty speed reading. On Tuesday, the Irish television network RTE One provided insight into one of the causes of unreliable camera readings in Ireland.

The current affairs "Prime Time" interviewed a whistleblowing former employee of GoSafe, a consortium of speed camera providers Redflex Traffic Systems of Australia, Spectra Group of Ireland and Egis Projects of France. The man, who asked to remain anonymous, explained how GoSafe ignored his concern that the speed cameras were being set up improperly.

The camera is supposed to be aimed at a precise 22 degree angle toward the targeted vehicle lane. Radar is susceptible to a phenomenon known as the cosine effect which will increase the measured speed if the angle is less than the expected 22 degrees. To prevent that from happening, camera van drivers are supposed to check the angle during setup by aiming the camera at a tripod placed at a distance from the van. Emails obtained by RTE show that the shoddy equipment often made proper setup impossible. Some tripods had levels that were stuck together with zip ties or rubber bands, for example.

"Operators have reported issues with setup equipment," one GoSafe manager wrote in a May 20, 2012 email. "They highlighted that these staffs, tripods, etc are required to comply with our setup procedures and are uncomfortable signing documentation stating that they set up as per GoSafe training. We need to look into this ASAP."

When weather or other conditions prevent setting up the camera properly, the speed camera van driver is supposed to tell his supervisor who is supposed to tell him to park the van and use it as a visible deterrent without issuing tickets. Instead, the whistleblower's supervisor told him to issue tickets anyway. The supervisor said the tickets would not be mailed, but it turned out they were.

The whistleblower filed a grievance, demanding the 30 to 40 people who were unfairly ticketed should receive a refund. He was fired. The Justice spokesman for the Fianna Fail opposition party is calling for an investigation in light of the "Prime Time" findings and his own meetings with the whistleblowers.

"The whole integrity of the system was questionable," Niall Collins told RTE One. "What has come out on the videotape is quite shocking in that people are having penalty points applied to their licenses and fines levied against them incorrectly, that's a very serious."

Several district court judges have also been throwing out photo radar cases after finding the evidence unpersuasive.