Related News
New Hampshire Supreme Court Takes Up Meter Feeding
The 79th Anniversary Of The Parking Ticket
Illinois Appeals Court Backs Chicago Parking Meter Lease
UK Report: $500 Million Profit From Parking Ticket Cameras
Activists in Los Angeles, California Push For Vote On Parking Ticket Reform
View Main Topics:


Subscribe via RSS or E-Mail
Back To Front Page
2/28/2014
Activists in Los Angeles, California Push For Vote On Parking Ticket Reform
Lawsuit and proposed initiative target parking ticket policies in Los Angeles, California.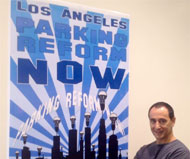 Motorists fed up with parking tickets in Los Angeles, California are fighting back. Each year, the city hits drivers with one-third of a billion in various charges, fees and fines related to parking. A federal lawsuit was filed on Monday arguing the fees are excessive, and a separate effort to force reform through a ballot initiative.

Angelenos are known for their automotive passion, immortalized in songs from the 1960s like Jan and Dean's "Dead Man's Curve" or Missing Persons' "Nobody walks in LA" from the 1980s. The city takes advantage of this by imposing fees for parking permits and licensing worth $2 million. Parking lots raise $6 million. Parking meters collect $52 million. A tax on parking generates $95 million. Meter maids hand out $157 million in parking tickets. Taken together, parking charges represent $313 million in income for the city government.

The Los Angeles Parking Freedom Initiative wants 60,000 signatures on a petition to change the system. Jay Beeber, a fellow with the Reason Foundation, and Steven Vincent are leading the effort.

"We, the people of Los Angeles, need a parking system that helps us care for our families, conduct our daily affairs and run our businesses," Beeber and Vincent explain. "We recognize that parking regulations and enforcement are absolutely necessary to a well-managed city environment. But we are not cows on a dairy farm to be milked whenever the city has trouble making fiscal ends meet. And while the city focuses on rolling out every conceivable means of 'monetizing parking assets' at the expense of its citizens, real world parking problems are being ignored."

The proposal would cap parking fines, eliminate confusing signs and reform of the appeals process. All of the city's parking policies must be reviewed, and money raised from drivers should not be diverted into the city's general fund, the activists insist.

Jesus Pimentel and David R. Welch were so outraged by the cost of parking tickets that they filed suit Monday in the US District Court for the Central District of California arguing the citations violate the Eighth Amendment protection against excessive fines. Last May, Pimentel parked in downtown Los Angeles and received a $63 ticket for parking at an expired meter. When he refused to pay he was hit with a total of $175 in fees. Welch had the same experience in February 2013, and both eventually paid the fine.

"The parking penalties set by the schedule greatly exceed the amounts for penalties established by the city in prior years for the same parking violations, reflecting an approximate 50 percent increase," Pimentel and Welch's attorney, Donald G. Norris, wrote. "On information and belief, the city was in substantial part improperly motivated to increase the amount of parking penalties on the schedule in order to increase its revenues and improve its fiscal situation in response the fallout from the 2008 to 2009 economic crisis."

The suit points out that a parking ticket amounts to a full day's pre-tax earnings for someone who makes the minimum wage. The penalty is 130 times the amount of money it would cost to feed the meter for a few extra minutes of time, which the plaintiffs argue is obviously excessive. The suit seeks a declaration that the fine amounts are unconstitutional.