2/11/2013
Largest Red Light Camera Program In World Faces Widened Corruption Probe
Redflex loses red light camera contract in Chicago, Illinois following investigation into corruption.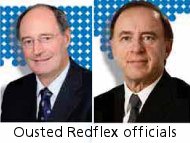 The Australian Securities Exchange allowed trading to resume on Redflex stock this morning. On Thursday, the photo enforcement firm had requested a trading halt to prevent a massive sell-off as news leaked of a widening corruption probe in Chicago, Illinois. The Chicago Tribune's report that a city official apparently took bribes from the company in the form of luxury trips and sporting tickets was confirmed by an official investigation. On Friday, Redflex received notice from the city that it will "not be considered a responsible bidder" for the red light camera contract that comes up for renewal on July 31. That means the firm will lose 384 cameras, the single largest red light camera contract in the world.

The news hit Redflex hard. In 2012, the company reported a net profit before tax of $21.3 million. It announced Monday the figure through December will drop to $5.5 million or possibly less as legal costs mount. As the firm paid $6.2 million in tax last year, that means the firm could post a loss for the year. Redflex fortunes have depended heavily on the Windy City, which generated 13 percent of the firm's revenue and represented 19 percent of its installed camera base. The contract value totaled $84 million and was set to generate even more cash on the way to 440 installed cameras in upcoming years. Because Chicago takes ownership of the cameras upon contract termination, Redflex will also lose a significant investment in equipment, which was $11.3 million as of 2010.

Upon the market's opening Monday, shares plunged 24 percent from $1.55 to $1.28. Shareholders have been upset since last November, when they issued a first strike against the company's lavish executive compensation package. On Wednesday, Max Findlay, the chairman of the board and Ian Davis, a director, were forced to resign in light of their reported role in the unfolding Chicago incident.

So far, Redflex admits it paid for luxury accommodations for John Bills, the Chicago official in charge of the red light camera contract, in violation of city ethics rules. This is nothing out of the ordinary for the industry. In 2010, the Australian firm also put the police chief of Oak Ridge, Tennessee up at the Ritz-Carlton Hotel in return for his favorable testimony at a court trial two years ago. Affiliated Computer Services (ACS, now a part of Xerox) was caught giving hockey tickets and other services to police officers in Edmonton, Canada, although criminal charges were ultimately dropped. American Traffic Solutions (ATS) regularly entertains public officials involved in red light camera business, but the airfare, lodging and wages during the event is paid for by taxpayers, not ATS.

According to court records, the Edmonton police officer who recommended ACS for a no-bid photo ticketing contract had an affair with an ACS employee. The officer's ex-wife testified the cop had been so cooperative with ACS because he expected to land a lucrative job with ACS upon retirement. The hiring of former municipal officials who have helped companies land lucrative deals has become so routine that municipal officials expect it to happen. This was the case with a traffic sergeant in Lynnwood, Washington who went as far as to use his official position to advertise on behalf of ATS. The former mayor of St. Peters, Missouri spent a year in jail after he solicited a bribe from Redflex on a deal that was not worth much money to the company.