12/20/2012
California City Fails to Pay Red Light Camera Bill
San Bernardino, California uses bankruptcy to get out of a nine-year contract with photo ticketing firm.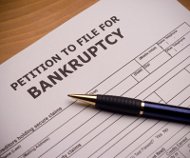 San Bernardino, California is finally free of red light cameras. The city found the way out from under the contract that had tied unwilling city council members to photo ticketing vendor American Traffic Solutions (ATS). A declaration of bankruptcy helped officials move beyond the agreement that was not set to expire until July 2014. San Bernardino revealed the news in an email sent yesterday in response to a routine public information request filed by the HighwayRobbery.net website.

"The city of San Bernardino's red light camera program has been terminated, and therefore we no longer have access to the same information that ATS used to provide to us," Deputy City Attorney Shauna M. Britton wrote. "Therefore, the city does not have any additional documents/information to provide in response to your request."

San Bernardino's website contains no mention of the program termination. To the contrary, it contains information designed to lead the public to believe the cameras are still in operation. Inside sources suggest the city has been delinquent for several months on payments owed to ATS, and the company responded by shutting down the cameras. ATS now finds itself at the back of a long line of creditors looking to recover the funds they are owed by the spendthrift municipality. Last Friday, the California Public Employees' Retirement System (CalPERS) sued to block the bankruptcy petition San Bernardino filed in August.

In March 2011, the city council voted unanimously to dump the use of red light cameras, but it did so only under the impression that the city would pay no more than $110,000 in ransom to get out from under the contract with ATS. This assumption proved incorrect, as ATS later demanded a check for no less than $1,896,202.05. Officials not only backed down, but they also added three new red light camera locations in March 2012.

Disenchantment with red light cameras took hold after series of setbacks. In 2008, the city was busted for operating with illegally short yellow times, and lengthening the yellows cut sharply into profitability. In 2009, an Orange County court decision forced the city to drop a "cost neutrality" contract provision (view case). This change left the city open to losing, instead of making, money on the red light camera program. In December 2010 when a San Bernardino County court ruled that photo ticket evidence was inadmissible hearsay (view ruling).