9/10/2012
Texas Man Sues Over Red Light Camera Protest Sign
Baytown, Texas sued in federal court for ticketing man who protested red light cameras by holding a sign.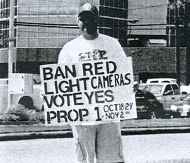 Two years ago, Baytown, Texas officials threatened to fine local resident Byron Schirmbeck for the crime of standing on the sidewalk with a sign, peacefully protesting the use of red light cameras. Now Schirmbeck is fighting back with a civil rights lawsuit he filed last week in the US District Court for the Southern Division of Texas.

Schirmbeck led activists in gathering signatures that eventually put the question of photo enforcement in Baytown to the public on the November 2010 ballot. Baytown voters sided with Schirmbeck, with 58 percent demanding the cameras come down.

As lawsuit explains, Schirmbeck did not have hundreds of thousands to spend on advertising his side of the issue -- unlike the red light camera firm American Traffic Solutions (ATS). So he got out some paint and wrote "BAN RED LIGHT CAMERAS, VOTE YES PROP 1" on poster board and held it on West Baker Road on September 22, 2010. Baytown sign inspector Debbie Sherman pulled up in a city truck to speak to Schirmbeck.

"You can't be there," Sherman said.

Sherman explained that the sidewalk was city property and he could not stand there with the sign. The next day, Sherman sent a letter threatening Schirmbeck with a fine of $500 per day if he did not stop holding that sign, citing Baytown's sign ordinance (view letter, 160k PDF).

"It shall be unlawful to place a sign upon a public street, public sidewalk, public alley, public right of way, public curb or other public improvements in any public street or ground: on any public bridge or part of a bridge, on any public building or structure of any kind belonging to the city, or in any public place or on any public improvement unless express consent therefore shall have been first granted by the city council," Baytown Ordinance 118-169(a) states.

Schirmbeck decided not to protest that weekend as a result of the threat. He tried to confirm whether the city had the legal authority to ban his use of a sign on a public sidewalk. His lawsuit claims his First Amendment rights were violated and that the sign ordinance should be struck down as unconstitutional.

"Our founding fathers put freedom of speech into the Bill of Rights just for people like Byron -- the common man who wishes only to speak and express themselves about their government's policies," Schirmbeck's attorney, Randall L. Kallinen, told TheNewspaper. "Just as the British Empire did against the colonists and colonial presses, Baytown did to Byron: 'Shut up or face our wrath.'"

Though Baytown's cameras have come down, many other Texas jurisdictions still use automated ticketing machines. Schirmbeck has been active in attempts to give voters a say in upcoming elections on cameras in other Texas towns.

"I hope it encourages others to speak freely about poor government policies," Kallinen added.